50 (Yes, 50!) Tips for Better Videos
Whether you're just getting started using video or you've got some video chops, there's always room for improvement, and new things to learn.
If you're interested in improving your video creation process, in this session you'll learn 50 (yes, 50!) tips and tricks for:
Thinking through the planning stage of your video
Record video for different situations and scenarios
Practical and relevant editing and production secrets you can start using today.
And more!
* brought to you by TechSmith
Location: Room 1
Date: September 6, 2017
Time: 10:15 am - 11:00 am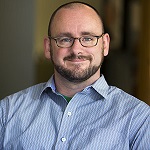 Matthew Pierce
UP