Be the Exception: How Brilliant Marketers Find and Follow What Makes Their Stories Different in a World Full of Average Content
We've practiced the best practices. We've tried the tried-and-true. But deep down, we have this creeping feeling our content is slightly better at best and copying competitors at worst. Noise competing with similar noise.
What if we could break from all that? What if we created more original, more inspired work? What if we could proactively shape the market instead of constantly react to all the generic advice out there?
In other words: What if WE were the exception?
In this fast-paced, inspiring keynote, Content Marketing World 2016's #1-rated speaker Jay Acunzo will challenge us to break from conventional thinking. He'll share stories of innovative marketers who rejected best practices to succeed — and the simple but powerful thinking that guided them.
You'll learn how to make a daunting leap between average and exceptional seem more like a smart strategy, and you'll see why the best way forward doesn't require any "guru" or "growth hack."
In the end, you'll walk away ready to create more differentiated content that grabs attention and drives bigger results despite all the noise.
In a world overrun with commodity content, ask yourself one question: Are you ready to be the exception?
Location: Exhibit Hall B
Date: September 6, 2017
Time: 8:55 am - 9:25 am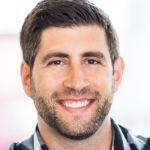 Jay Acunzo
UP