Beyond Traffic Reports: Using data, organizational messaging and passion to reinvigorate your content strategy
Blending quantitative and qualitative analysis in collaboration with your peers is the best way to get most out of your B2B marketing content. Learn how to evaluate your content universe so you can build "constellations of content" that empower you to execute your editorial priorities, repurpose your best ideas, and build a meaningful dialog with your audience.
Attendee takeaways:
Learn how to blend quantitative and qualitative data, including web traffic analytics, industry research, SEO best practices, and your organization's messaging goals to make the most of your existing content.
Find opportunities to use your content in a modular, flexible way so you can focus on content strategy, not just content creation.
Take charge of content bloat by identifying what your audience wants based on knowledge of your buyer personas, different stages of the buyer's journey, and a thoughtful approach to brand storytelling.
Location: Room 5
Date: September 8, 2017
Time: 8:00 am - 8:45 am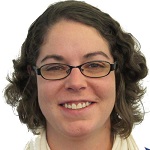 Anna McHugh
UP