Big Brand Influencer Marketing – Trends and Best Practices
New research shows 80% of marketers rate content marketing as most impacted by influencer marketing, yet only 10% of marketing budgets are allocated to the practice. As large enterprises move from experimentation to sophistication when working with influencers, it is essential to understand the trends and best practices that will drive content marketing success on the road to 2020.
From activation to co-creation to technology recommendations, influencer marketing strategies, tactics and measurement best practices for large companies are unique and require specialized insight.
Through a combination of research, first hand experiences across numerous large enterprise influencer marketing programs and a select number of big brand case studies, attendees will learn:
3 critical reasons why influencer engagement is not right for your company
5 research based best practices driving influencer content success at large brands
3 lessons learned from big brand influencer campaigns
5 influencer marketing platforms, marketplaces and tools to help integrate and scale
Location: Room 4
Date: September 6, 2017
Time: 11:20 am - 12:05 pm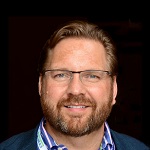 Lee Odden
UP