Brands as Storytellers: Everything Brands Need to Know About Launching a Global Content Studio
Consumers no longer engage with traditional interruptive marketing messages, but they will engage with content that adds value by entertaining or informing them. Brands looking to get consumers attention, must stop interrupting what consumers are interested in and become what they are interested in. Brands of all kinds and sizes have the opportunity to become storytellers with their own content studios. But what does that actually mean? Where do you start? And what are the different models?
In this session, two time Emmy Award winning Producer and Content Marketing Leader David Beebe, who AdWeek declared a "Branded Content Master who Makes it OK to Love Marketing" and AdAge named a "40 under 40 Forward Thinker in Marketing" will take you inside the inner workings of the changing media landscape, explain why brands are launching their own content studios, and the different models, types of content, processes, who to hire, content ROI, and how to build and scale a global team around the world dealing with different languages and cultural considerations. You'll leave the session with enough real-world insights and information to understand which model is right for you.
Location: Room 25
Date: September 7, 2017
Time: 3:10 pm - 3:55 pm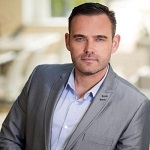 David Beebe
UP