Broadcast is Dead, Building the Next Generation WebTV Network
Online video is the largest growth platform for brands and publishers alike and understanding the mechanics behind this new media shift. We will identify the best platforms, tools and tactics to deliver your success.
Join Paul Barron an internet pioneer who began building online communities in 1993 to creating a new media publishing platform focused on online video, social and decentralized distribution.
Sponsored by:

Location: TBD
Date: September 6, 2016
Time: 1:00 pm - 4:30 pm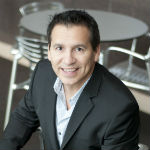 Paul Barron
UP