Content Buy-In: How Smart Marketers Secure Big Budgets and Drive Organization-Wide Content Marketing Buy-In
You know content marketing works. You believe it could make a tremendous impact on the business. You just cannot get the rest of the organization on board. And you're tired of running your content marketing initiatives on a shoestring budget. Why can't they see what you see? Getting the entire organization to embrace your content marketing initiative doesn't have to be such an uphill battle.
In this provocative hour-long keynote, veteran marketer, CEO, and bestselling author Michael Brenner will show you how successful marketers convince entire organizations to embrace content marketing – and embrace it fast.
You'll learn :
How to champion the right marketing ideas within your organization and how to push back on those that don't make an impact
The simple secrets every content marketer can use to get marketing buy-in for almost anything.
How to activate your employees to create a movement around content marketing
How successful content marketers measure the ROI in business terms
Are you ready to make a massive impact?
Location: Hope Ballroom E (Hilton Level 3)
Date: September 6, 2017
Time: 1:45 pm - 2:30 pm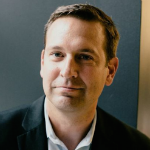 Michael Brenner
UP