Create and Structure Your Account-Based Marketing (ABM) Strategy
Your company's biggest competition is not a product, but the failure of your prospective customers to make a decision to change. B2B buying committees involve multiple stakeholders, lengthening the buying process; adding complexity and confusion that inhibits change. This said, a majority of buyers say they would buy if the process was simpler.
Your best bet as a B2B marketer is to shift from a focus on individual leads to an account-based approach to help get everyone on board to reach consensus. This shift to an ABM mindset that puts the whole customer first will also result in tighter sales and marketing alignment across the continuum of the buying process—and more won deals.
In this hands-on workshop, you'll learn:
How your segmentation choices set the foundation for ABM
Why intelligent personas become even more important for a successful ABM strategy
What a consistent, well-crafted story looks like and how to use it to drive consensus
How to empower salespeople to use content to speed buying momentum
Location: Room 19
Date: September 5, 2017
Time: 1:00 pm - 4:00 pm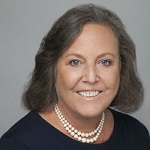 Ardath Albee
UP