Creating an Influencer Marketing Strategy: A to Z
Can you qualify who the best influencers are for your brand? Is your approach to influencer engagement transactional or relationship focused? How do you know influencer marketing efforts are actually working?
Influencer Marketing strategies that focus on developing relationships with internal and industry experts with active networks to co-create content and drive measurable business goals are leading brands, big and small, to greater marketing success. An integrated and relationship-driven approach to influencer engagement taps a much greater resource internally and externally while contributing a quantity of quality content that can be used and repurposed.
To take A to Z advantage of all the opportunities influencer marketing brings requires a plan. This interactive workshop will engage attendees to learn:
Where influencer collaboration can have the most impact for your company and customers
A framework for integrating influencers in content marketing programs
How to align influencer marketing goals with measurement
Options for paid influencer marketplaces vs. DIY influencer marketing platforms
B2B influencer marketing strategy best practices
B2C influencer marketing strategy best practices
Location: Room 24
Date: September 5, 2017
Time: 1:00 pm - 4:00 pm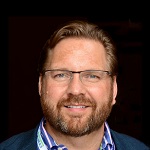 Lee Odden
UP