Periscope, Twitch and the New Kings of Streaming: How (and Why) to Do Live Online Video
With just a mobile phone and some spunky gumption, a Texas mom can broadcast live footage of herself enjoying a Star Wars mask in a parking lot for what's amounted to over 170 million people – the kind of massive reach that, only 5 years ago, would have required an entire broadcast network.
Live streaming video has been available to both creators and audiences since the oughties, pioneered by early webcasting services like Ustream, Livestream and Justin.tv. It wasn't until recently, however, that this type of webcasting moved from "relatively niche" to "every relative you see on Facebook."
It's been a long time coming, but why now? And how?
Attendees can expect to learn:
How social media juggernauts like Twitter and Facebook brought livestreams to the mainstream
The difference between Twitch, YouNow, Instagram Live, Facebook Live, YouTube Live and more
Types of live content digital audiences love (and hate)
The essentials needed to produce great live broadcasts online
Location: Grand Ballroom C
Date: September 6, 2017
Time: 11:20 am - 12:05 pm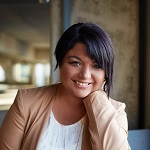 Jessika Phillips
UP