Maximizing Engagement with a Multi-Channel Content Marketing Approach
Executing a content marketing strategy often involves many team members across different departments, and may include partners, agencies and even legal. With so many individuals reviewing and providing input into your strategy, it's important to have a solid plan in place to work together. When done well, harnessing the knowledge and expertise each team brings to the table can make for a winning strategy.
Join Stephen Pitts of SapientRazorfish (formally Rosetta) as he discusses how client Santander Bank successfully launched a blog aimed at the millennial audience and worked across multiple channels, agencies and internal departments to drive an increase in visitors, rankings and engagement metrics. The project was also named the 2017 Content Marketing Awards Best Creative Collaboration in Content Marketing.
Attendees will learn how to:
Integrate strategies and streamline work flow across many departments
Ensure all distribution channels and platforms are on message
Align content to meet original objective, and keeping content both on brand, on message and optimized through multiple editing rounds
Create content aimed at different funnel levels to inspire (high), educate (mid) and activate (low)
Be goal orientated and strategic from the inception of a new content marketing program
Sponsored by:


Location: Room 25
Date: September 6, 2017
Time: 12:20 pm - 1:00 pm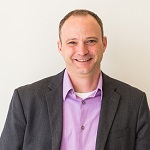 Stephen Pitts
UP