From Brand to Publisher: How to Create Your Own WebTV Network
Consumers don't want to be marketed at — they want to be told a story, and so in today's world, content creation is do-or-die for brand success. Learn how to bridge the gap between your audience using on-demand video and custom content, and learn how to perfect your model for distribution for the best analytical performance and extended reach in order to drive average content from valuable to viral.
Attendee takeaways:
Learn how to create a WebTV network using the strategies of a company that began as a two-man team and grew into more than 40 writers, filmmakers and creatives, and which is now leading the restaurant & hospitality industry in trade content creation.
Empower your brand by becoming a content creator in this new era of integrated storytelling, which consists of: viral video creation, social distribution tactics, custom editorial and extended reach strategies.
Establish longevity within your segment by studying how storytelling affects and engages the consumer, which in turn, affect executive and operator decisions.
Location: Grand Ballroom A
Date: September 8, 2016
Time: 1:45 pm - 2:30 pm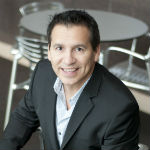 Paul Barron
UP