From OMG to Yass!: Three (Simple) Ways to Improve Your Videos
As video creation tools become more affordable and easier to use, more marketers are making their own videos. Whether you're going the DIY route or simply managing the video creation process, this session will help demystify video creation by highlighting three key ways marketers can easily take their videos to the next level.
Session attendees will learn:
Things to do before the camera rolls
What you need to know to capture better audio
The truth about b-roll, lower third and a bunch of other terms that sound scary, but really aren't.
* brought to you by TechSmith
Location: Room 1
Date: September 6, 2017
Time: 11:20 am - 12:05 pm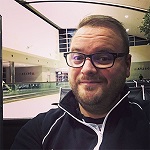 Ryan Knott
UP