Going Beyond Content Marketing: Turning Traffic into Leads
You're consistently hammering out content…but no one's buying.
Content into a demand generation engine is a riddle every marketer has to solve. So how do you optimize your content to attract the right audience that will convert into the perfect customers for your business? The silver bullet exists. Learn the secrets to turning traffic into leads and quadruple your content's results through agile, startup-driven frameworks.
Sponsored by:


Location: Hope Ballroom A-C (Hilton Level 3)
Date: September 7, 2017
Time: 11:05 am - 11:50 am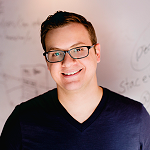 Garrett Moon
UP