Growing Your Agency with Content Marketing Services
As media mix tilts increasingly to content-rich digital and live experiences, you need a strategic, step-by-step guide to grow revenue, share of budget and reputation by providing clients with best-in-class content services. At this highly interactive workshop, you'll get your questions answered by an expert and you'll learn how to:
Position and sell content services as more effective than online advertising.
Never say no to clients; never say yes. Rather, from that first phone call or casual meeting, help clients define success, set goals and solve problems with content.
Create an integrated process that ensures client buy-in from the very start and charts the path to effective multi-channel storytelling.
Develop the valued capability to set strategy based on audience insights, brand differentiation and the competitive landscape.
Discover your client's most powerful core narrative to deliver consistent branded stories. • Chart the audience's journeys to ensure multi-platform impact.
Use the right tools to find the stories most important to your client's audience and utilize those tools to create effective, long-range editorial calendars.
Set, measure and report the right metrics so success can be proven.
Location: Room 20
Date: September 5, 2017
Time: 1:00 pm - 4:00 pm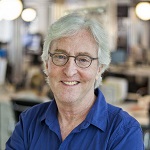 Kirk Cheyfitz
UP