Hope is Not a Content Strategy: Building Intelligent Content with the Power of SEO and Content
In a modern era of content marketing, creating volumes of content is no longer a strategy that marketing departments can afford – or customers want. In fact, 70% of marketers stated that half of their content is never consumed. That's time lost and dollars spent without any return.
High-performing content starts by understanding consumer intent – often by combining the power of SEO and Content Marketing. Understanding intent helps marketers create intelligent content, optimized for very specific consumer needs, which serves as the centerpiece of a great consumer experience and fuels marketing performance.
In this session, you will learn:
How to understand customer intent and target the topics that matter most to consumers
How to implement key SEO best practices that every content marketer can adopt today
How to create optimized content from the get-go and ensure that it stays optimized for search, mobile and local friendliness
Tips, tricks and practical use cases on how to build efficient frameworks that maximize content marketing results in the form of traffic, engagement, conversion and revenue
Sponsored by:


Location: Grand Ballroom C
Date: September 6, 2017
Time: 12:20 pm - 1:00 pm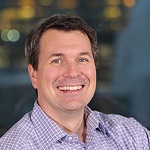 Kevin Bobowski
UP