How to Google Proof Your Lead Gen Content Marketing Programs
Pigeon. Panda. Penguin. And all of those unnamed updates. It seems like every time you turn around Google is reminding you that they, not you, will determine who sees your content. And this means Google, not you, controls the top of your sales funnel.
But it doesn't have to be that way. By mapping your prospect universe for your key Propinquity Points, you can outwit Google and push your content to the online destinations your prospects most frequent when self-educating, including a Google Search.
Tom Martin, author of The Invisible Sale will introduce you to Propinquity Marketing, an advanced lead generation approach that can Google Proof your lead generation efforts. In this fast paced, energetic session you'll learn:
Propinquity – what is it and why does it and not Google hold the key to your future content marketing success
How to map your company's Propinquity Points by finding every website shared by your prospects via social media
How to classify and determine which Propinquity Points should generate the greatest ROI for your content efforts
How to use Propinquity Mapping to reverse engineer Look Alike audiences for future social selling sales prospecting efforts
Location: Grand Ballroom A
Date: September 6, 2017
Time: 11:20 am - 12:05 pm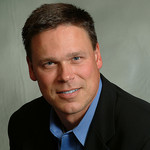 Tom Martin
UP