How to Integrate Public Relations with Content Marketing
Regardless of the ongoing changes in the media landscape, marketers must understand various types of media and how to build relationships through different channels for better storytelling and deeper connections. Public relations integrated into your content marketing program increases your credibility, and trust. Most of all, using a PR approach helps you to offer value to your constituents through the content you share.
At the same time, social media conversations, fake news, and 140-character Twitter announcements are driving the news cycles and affecting how and where the public wants to receive information. Creating meaningful content that stands out and resonates and building stronger relationships takes a different approach. By Integrating PR into your content marketing you will create a communications program that opens up new channels and opportunities, quickly builds the lasting relationships that matter for your business and proves your value as a marketer.
In an interactive workshop that integrates earned and owned media activities, attendees will learn to:
Uncover greater data intelligence about the people who need to connect with you and hear your stories.
Leverage existing relationships and the power of community to build support and to make new "friends."
Create unique story opportunities that are human, transparent and not "staged" events.
• Measure the ROI of your storytelling proving value and improving your communication moving forward.
Location: Room 11
Date: September 5, 2017
Time: 1:00 pm - 4:00 pm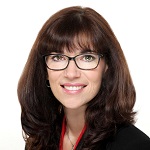 Deirdre Breakenridge
UP