Implementing a Global Influencer Program at a Large B2B Enterprise
Having built a global influencer marketing program at one the largest B2B brands, Amisha will discuss how to create an effective influencer marketing program from the ground up including: how to obtain executive buy-in to setting up a framework for a program to measurement and showing value in the sales cycle.
B2B brands need to build influencer marketing programs over a longer sales cycle and develop programs that drive engagement with customers along various touch points in the customer journey – from awareness to demand gen to advocacy.
Learn the top strategies and tactics that are working in B2B influencer marketing including case studies, influencer interviews, how to collaborate with influencers to extend the reach of your brand and engagement with new audience, measurement and ROI to show the value of your program and some earned "bumps and bruises" from the batting cage.
Location: Room 4
Date: September 6, 2017
Time: 1:45 pm - 2:30 pm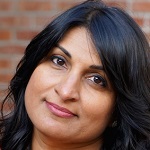 Amisha Gandhi
UP