Let the Data Drive Your Stories: How Proprietary Numbers Can Improve Your Storytelling and Boost Your Brand's Thought Leadership
Using proprietary data to tell stories can help a brand quickly become a thought leader in its space: Data = authority, especially if you can pair it with internal expertise. So we at Monster began a treasure hunt of figuring out where the data sat in the company and what it was—and then how to deploy it to our audiences.
Attendees will learn how to:
Align yourself with different departments that create or manage data, from insights to PR to product
Look for the top-level data that we know has evergreen broad appeal (our monthly "Monster 100" list of top companies hiring has generated more than 1 million page views and 529K conversions to job search this year)
Layer existing data on news of the moment (like tallying up job searches in Canada leading up to the election)
Dig deep into data that appeals to specific audience
Work with PR and insights to create data, helping build surveys and polls and unique data crunching such as our Monster-Military.com Best Companies for Veterans Awards
Report external data, and give it a fresh spin with your expertise.
Location: Room 26
Date: September 6, 2017
Time: 11:20 am - 12:05 pm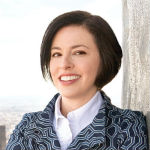 Margaret Magnarelli
UP