The Future of Content Marketing Isn't Content Marketing – An Approach for Agencies and Enterprises
Over the past few years, the needs of enterprise organizations for breakthrough content has far outgrown the confines of content marketing. Content now plays a rich and powerful role in every marketing function–from top of funnel awareness on down to sales enablement and customer retention. In turn, their needs from content marketing solutions has grown as well; they demand incredible talent, great strategy, powerful technology to manage complex operations, and above all else, accountability. As an industry, we need to embrace a new paradigm if we want to deliver accountable content that maps to business goals and helps organizations maximize their culture and growth.
It's time for the era of content operations: a broader framework for content strategy, planning, creation, activation, and optimization that serves not just top and middle-funnel marketing needs, but all business objectives. It's time for content strategies that map to business goals, not vanity metrics. It's time for technology that's uniquely built to deliver insights and help business leaders make decisions faster, giving them a distinct advantage over their competition. The future of content marketing isn't content marketing. It's so much more.
Location: Room 3
Date: September 7, 2017
Time: 4:15 pm - 5:00 pm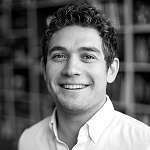 Joe Lazauskas
UP