And Don't Forget the Humans: Why Digital Transformation Fails Even with the Best Technology
Digital Transformation is a human question. One of the key reasons technology implementations, digital transformation efforts, IT projects, customer experience strategies, and digital business projects fail is the lack of attention for the essential human component. Ensuring fair representation of the human side of marketing, technology, and management can be a way forward to a balanced, and a more holistic (and successful) approach to Digital Transformation.
We will discuss:
Humanization and collaboration – beyond the silos
Data is king, context us queen, but culture is the throne that makes them work!
If data is misused, we can quickly move from an intended data-driven organization to a driven-data organization, driven by politics and agenda. To change an organization one needs to be both radical and practical, evolutionary and revolutionary. How you balance between them is critical for success.
Location: BrightEdge Stage
Date: September 6, 2017
Time: 10:15 am - 11:00 am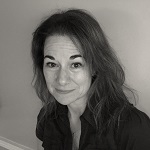 Cathy McKnight
UP