Kicking the Self-Destructive Advertising Habit: How to Move a Brand from Crappy Ad Addiction to Valuable Content Programs
An urgent call to arms and practical field guide for brands and agencies who must move from failed online advertising to content programs that actually build relationships and sales. The ad industry is stuck with old-fashioned ad tactics that don't work in a digital age. It's literally killing the web, driving mass ad blocking, bot fraud, kickbacks, unintended adjacency to fake news and worse. Change is hard, but we've got to break from the failed past and create multi-channel content programs that produce results online the way ads once did on traditional channels.
Join us to learn:
How to prove to ____________________ (CMOs, bosses, colleagues, clients, etc.) that content can reduce risk, save money and increase results;
How to avoid the 7 deadly plagues of online ads that are chasing away customers, killing online publishing and damaging brand reputations;
How to take the 6 steps that every brand should to stop offending people and start producing results;
Why a content marketing agency should be every brand's lead agency for all advertising and marketing efforts;
How to transform organizations — brands and agencies — and their technologies for success in a content-first, digital age; and
More.
Location: Grand Ballroom A
Date: September 7, 2017
Time: 11:05 am - 11:50 am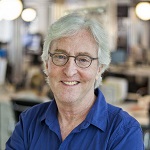 Kirk Cheyfitz
UP