The Ultimate Session on Words That Convert (How to Find 'Em and How to Use 'Em) – in Mobile, eCommerce and More
Disclaimer: You will not walk out of this session with a magic list of words that convert. There is no such thing.
You will, however, walk out with a proven strategy for discovering (and validating) the language that will move your unique users to action, and how those actions vary between channels of engagement.
In this session, conversion optimization pioneer, Chris Goward, will show you how to design experiments to reveal which combination of words and phrases work – and which don't – for your unique visitors, and how to test which language is optimal for eCommerce, mobile, and beyond.
Discover how to better understand and motivate your audience by utilizing psychological principles and behavioral triggers in your content, and how to leverage those learnings to increase revenue and sales.
You'll learn:
Words that have been proven to work, and why they probably won't work for you
How to properly design experiments to reveal the words that will motivate your users to convert
Examples and strategies for testing conversion triggers in eCommerce and mobile
How to use psychological principles and behavioral triggers to motivate your visitors to take action
The two-phased process for continuous ideation and validation of the words that work for your users
Location: BrightEdge Stage
Date: September 7, 2017
Time: 4:15 pm - 5:00 pm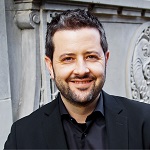 Chris Goward
UP