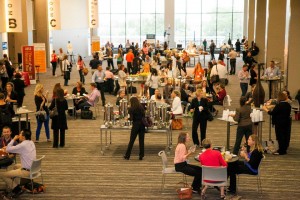 It's easy for a new conference attendee to become overwhelmed by the experience, especially if she or he doesn't know anyone. Most people seem to have at least one connection there, and knowing people is half the battle when it comes to networking because friends are great for introductions, which lead to more introductions, and so on. So what happens when you go to a conference and don't know anyone?
Read on for some tips for networking, when you don't know anyone in the room.
1. Say "hello"
You don't have to stand around looking for a conversation starter. "Hello" is universal and works on everyone. Hold out your shaking hand, say "Hello, my name is ______" and take it from there. If you're unsure of what to do after the hello, ask the other party about their job, where they live, and what is bringing them to the event.
2.  Don't be a wallflower
Confidence is a beautiful thing. People are drawn more to confident people than they are someone sitting in the corner staring at his iPhone. Work the room and walk the floor. Some of the best conversations happen waiting on line for drinks, food, and, believe it or not, the rest room.
3. Find some common ground
Do you see someone you know? Perhaps you work in the same industry or know some of the same people? There's your opening. Introduce yourself and mention friends or activities in common.
4. Save the business card until the end
Nothing is more off putting than people who shove business cards in your face before knowing a thing about you. How do you know you're a good fit or that you'll want to do business with each other? After you've been talking for a while say, "I'd really like to continue this conversation, here's my card. Let's stay in touch."
5. Don't stay in one place for too long
Work the room! Good things are happening everywhere and you don't want to miss a thing. Don't wait for people to come to you. Walk the room and look for interesting people and conversations.
6.  Find a conversation piece
If you're not sure what to say, look for an interesting focal point. Comment on unusual jewelry, or point out artwork or even a unique business card.
7. Any mutual friends?
Do you see a friend of a friend? If so, go say hi. Let that person know you have a friend in common and let that be the start of your conversation. Chances are if you have a common friend, you have common interests as well.
8. Look for others who may be alone and work the room together
Always remember this: You're not the only one attending a conference alone. Try and find other people who may be a little shy or looking for a conversation and say hello. Who knows? That person may become your wingman/woman and you can attend conference functions and meet people together.
9. Ask questions and show interest
Show genuine interest in the people you meet. If you talk about yourself the whole time, people will get bored. When networking it's more important to listen, than to pitch.
10. Follow up
Once the conference is over, use the business cards you collected to send follow up emails. Touch base, and let the others know you were so happy to meet them. Let them know you're there for them any time.
It can be a little intimidating to attend a conference alone. When you don't know anyone you can even feel a little shy. Remember this: After you say hello, you're not a stranger anymore.
We look forward to seeing you at Content Marketing World in September! There is still time to register. For more information check out the rest of the website or register here.
Posted June 19, 2014 in: Event by deborahng
---