Over the summer, you'll have the opportunity to hear from some of the CMI/CMWorld team on what they love most about Cleveland, and offer you some thoughts on what you should visit while you are here.
This week's post is written by CMI Founder, Joe Pulizzi.
As we make the final preparations for Content Marketing World, what amazes me most is the question I'm not getting anymore:
Why Cleveland?
Since we launched CMWorld in Cleveland in 2011, that question was by far the most frequent.  So many times we had to sell the venue more than the agenda, speakers or networking events.
But that has all changed.  Cleveland, in seemingly a matter of months, has become a trending city (I can't believe I just typed that). So, if you are visiting Cleveland for the first time or back for a return trip, here are a few of the reasons that Cleveland makes me smile. Our team tried to avoid duplication in our favorite places in Cleveland, but some just bear repeating. Enjoy!
Lola Fries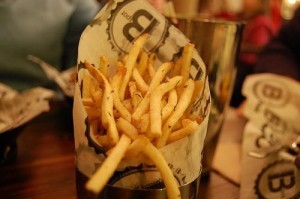 Source: www.flickr.com
Lola is a Michael Symon-owned restaurant on the famous E. 4th Street area of downtown Cleveland.  Symon is probably the most well-known chef in Cleveland, due in part because he won Iron Chef America back in 2007, and because his restaurants are amazing.  Lola Bistro is probably the most famous at this point.  Call me crazy, but through all the amazing steaks and seafood you can get at Lola, I love the fries. 
Here's the good news for those on the more casual side, you can also get Lola Fries at Symon's burger chain "B Spot", located in multiple locations in Cleveland, but most notably in the Horseshoe Casino.
Cedar Point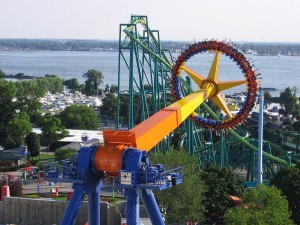 Source: Wikipedia
My grandparents, parents, brother and sister all worked at Cedar Point at one time.  I did the briefest stint (at the Imax theatre for a month before I quit for a radio job).  Nonetheless, Cedar Point is the best amusement park in the world.  CP is probably best known for its thrilling roller coasters.  17 in all, Cedar Point has the best coasters in the world, including Millennium Force and Maverick (to just name two).  Cedar Point is an hour drive west of Cleveland, and well worth the trip if you can stay in Cleveland an extra day or two. And don't forget the CMWorld discount!
Horseshoe Casino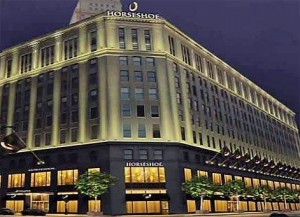 Source: www.clevelandleader.com
If you are a fan of the movie, A Christmas Story, you'll remember the beginning of the movie where they watch Santa sled by in the parade.  Well, the corner where Ralphie looks at the Red Ride, that was the Higbee Building in Cleveland.  Today, that building is the Horseshoe Casino.  Horseshoe is the only casino I've ever been to that's been on multiple levels.  It's usually packed and hard to get to a table game, but it's worth it to check out the inside and how they've been able to keep the historic nature of the original building intact.
Panini's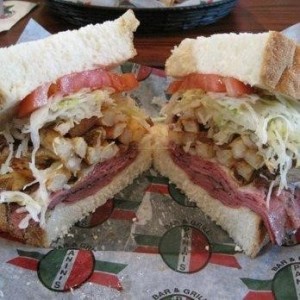 Source: www.yelp.com
Panini's is located on the corner of E. 9th Street and Prospect.  A Panini sandwich includes a generous helping of French fries and coleslaw inside the sandwiches themselves.  It sounds a bit odd, but you'll fall in love at first bite.
Velvet Tango Room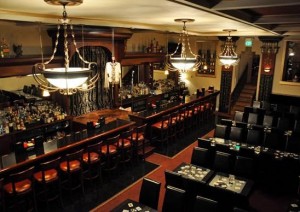 Source: www.budgettravel.com
Cleveland's own speakeasy, the Velvet Tango Room, looks like a deserted garage during the day, but comes alive at night.  Mixing drinks with all their own sodas, syrups and bitters, the drinks are amazing, and the atmosphere is even better.
Melt Bar and Grilled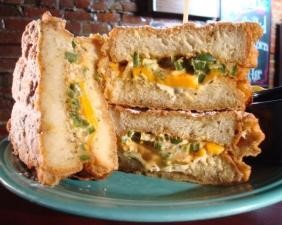 Source: www.meltbarandgrilled.com
Just a few miles away from Downtown Cleveland in Lakewood, the original Melt is home of the best, and most odd, grilled cheese concoctions on the planet.  The meatloaf grilled cheese is to die for, but don't plan on eating it all in one sitting.
Christophier Custom Clothiers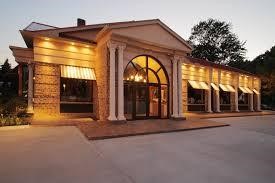 Source: www.thebluebook.com
Wondering where I get those custom orange shirts and suits?  Christophier's is the place.  Christophier's is located just west off the shoreway from Downtown, on the heels of Lakewood.  If you are looking for a deal on shirts, this is not the place for you.  But if you are looking for the best custom shirts around, give it a try.
Playhouse Square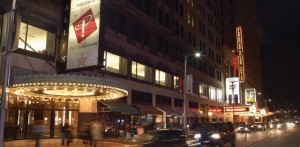 Source: www.playhousesquare.org
Did you know that there are more Broadway shows in the square mile area around Cleveland's Playhouse Square than any other place in the world, except for Broadway? Decades ago the masterpieces were almost torn down.  But an amazing movement in the city saved the buildings and led to a resurgence in the arts.  And new for 2014…the Playhouse Chandelier is a must see.
Cleveland Museum of Art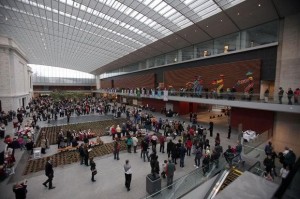 Source: www.cleveland.com
A jewel of Cleveland, the Cleveland Museum of Art includes more than 30,000 works and is one of the most beautiful museums I've ever entered.  It's totally worth the 15-minute trip to the University Circle section on the east side of Cleveland.
Hilarities at Pickwick & Frolic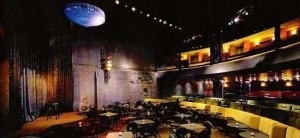 Source: www.east4thstreet.com
Nick Costas was, perhaps, the first person who saw the vision of what the East 4th Street section of Cleveland could be.  His restaurant, Pickwick & Frolic, and comedy club, Hilarities are worth the stop for a night of dining and entertainment.  Be sure to stop and see the unique, full-length lighted bar downstairs.  It was at Hilarities where the first Content Marketing World took place, hosting comedian Kevin Smith for a night of obscene laughs.
Aside from great food, drink, entertainment and much more, the best reason to come to Cleveland in September is Content Marketing World. We're changing and defining our industry and want you there at this pivotal time.  Register today if you haven't already, and don't forget to use code CMWSOCIAL to save $100 off your registration! Be sure to contact us if you have any questions. 
Posted August 21, 2014 in: Event by Joe Pulizzi
---