Yes! We want YOU there! And today is the BEST time to register for the best content marketing conference around.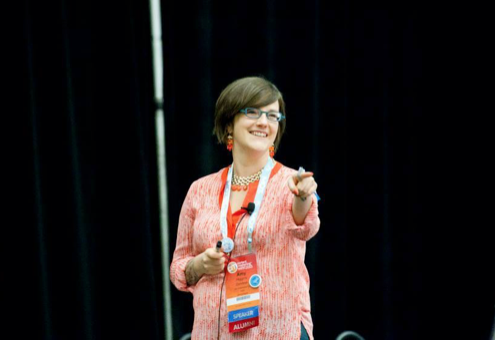 Photo: Amy Higgins, speaker, Content Marketing World 2016. Credit: Fallon's Photography
10. Our Super Early Bird rates end tonight, February 29, 2016!
9. Code BLOG100 will save you an additional $100 off of those super early bird rates!
8. If you register by tonight and play along on social, you'll have a chance to win a free hotel stay too!
7. FOMO – it's really a thing. You know you don't want to miss out!
6. Our game show will be back! Stay tuned for more details.
5. Cleveland, fresh off of the RNC, will be gorgeous and ready for more visitors.
4. The sooner you register, the sooner you can book a hotel with the best options close to the convention center.
3. The early registrants will get first dibs on session selection when they open. Register early for the best chance to sit in the sessions you're most interested in!
2. Budget now for the largest content marketing event on the planet…and save your company money by getting the lowest prices. Sounds like a win win to us!
1. Today is the PERFECT day to begin to refocus your content marketing efforts. We'll arm you with so much between now and September, but take that big step by registering today! (See #10 and #9 above to save big!)
Need some final inspiration?
We can't wait to see you in September. How can we help? Have a question? Leave a comment or email me  – cathy [at] contentinstitute.com.
Posted February 29, 2016 in: Event by Cathy McPhillips
---