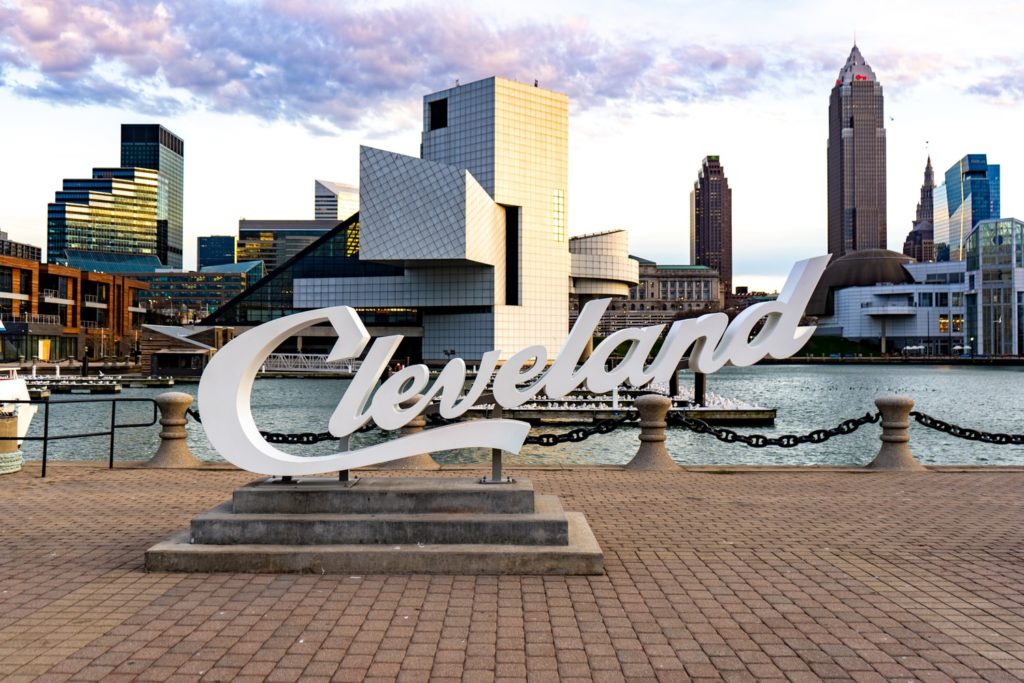 It was David Schmidt, from Breathe Caroline, that said, "music is just something that helps me escape and be totally free from everything." I'm not sure I could have said this more perfectly.
If I'm honest, I spend at least two hours of my day trying to find the perfect music that pairs well with my mood, the work I have to accomplish and the weather outside. I have no solid statistics but I estimate that my productivity levels increase by 50% when I can find the perfect music to compliment my day.
I say 50% increase in productivity because other times my deep dive into Spotify and YouTube music is purely procrastination. Hence, this article.
Did you know Cleveland has been home to 10 of the 11 Content Marketing Worlds? This tidbit led me down a bit of a worm hole. I madly searched for well-known bands and artists that have come out of Northeast Ohio and what songs have been recorded about our beloved city. The result? A playlist designed to get you hyped about a visit to Cleveland and Content Marketing World this September.
Here's a glimpse of what you can expect to hear:
"My Ex's Best Friend" | Machine Gun Kelly
Machine Gun Kelly is a Cleveland native who isn't shy about his love for the city. So far, he has written two songs dedicated to The Land, "Cleveland" and "Till I Die".  His music is best described as a unique blend of contemporary and alternative hip hop with rock.
"Heaven On Dirt" | Teddy Robb
A native of Akron, Ohio, Teddy performs "Heaven on Dirt" as a tribute to his childhood growing up in Ohio. Now a country artist based in Tennessee he was eager to perform record this single because, as he puts it,  "when I heard that song, you know, it immediately brought me home."
"Ohio" | The Black Keys
The duo first met when they were younger while living in the same neighborhood in Akron, Ohio and they haven't left their Midwestern roots behind. This multi-Grammy Award-winning blues-rock duo brings the Midwestern edge to every album they produce and song they sing.
"The Heart of Rock & Roll" | Huey Lewis and The News
On tour Huey Lewis consistently heard people say the heart of rock n' roll was Cleveland but never believed the hype until he played at the Agora theatre himself. "On the bus ride out, I'm looking at the landscape and I said, 'Boys, the heart of rock 'n' roll really IS in Cleveland," shared Lewis after his Cleveland show early in 1981. Thus, this song was born.
"Cleveland Rocks" | The Presidents of The United States of America
Although the band themselves isn't from Northeast Ohio, I couldn't help but include their song "Cleveland Rocks" because indeed, Cleveland does rock! Fair warning – this song may induce dance moves and flashbacks to The Drew Carey Show. Watch the theme song video and you might just see some of your favorite Cleveland spots highlighted.
This is just the beginning of the amazing music to come out of Northeast Ohio and/or to sing about The Land.  But, who would I be if I just kept listing titles and didn't give you a chance to experience the music for yourself?
Whether you're working, cleaning, lounging or dreaming about CMWorld, this playlist is sure to put you in great mood. Check it out and then let us know what songs/bands we missed and should add in the comments below!

Ready to travel to Cleveland? Hit the road and make a stop at Content Marketing World. Code SM100 saves $100 on your ticket.
Posted July 16, 2021 in: Event by Monina Wagner
---