Right after Content Marketing World 2015, we released the findings of our annual CMI/MarketingProfs content marketing survey.
One of the most surprising statistics to us? 55% of business-to-business (B2B) marketers said that it is unclear within their organization what an effective or successful content marketing program looks like. 55%!
Not surprisingly, effectiveness increases when teams understand what success looks like: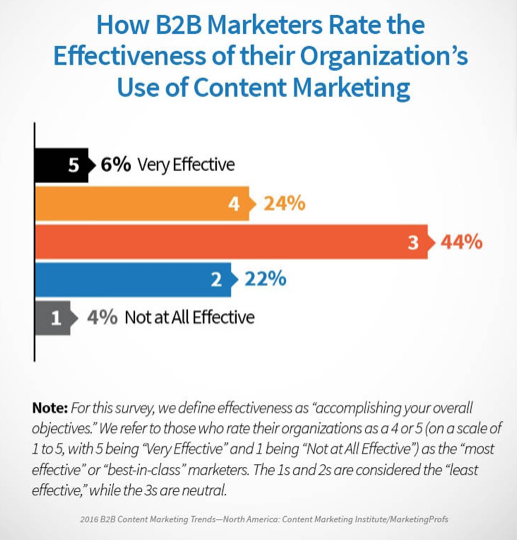 When examining and discussing what is working for the most effective marketers, we can learn from them. We recommend taking some time to dig in to our B2B Content Marketing 2016: Benchmarks, Budgets, and Trends – North America , produced by Content Marketing Institute and MarketingProfs, and sponsored by Brightcove.
What is your content marketing maturity level? See where you fit in with the rest of the industry: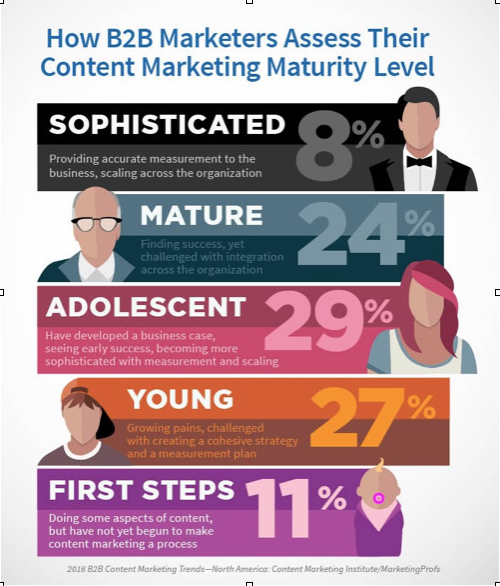 Effectiveness also increases as the organization's content marketing grows in maturity. Sixty-four percent in the sophisticated/mature phase say they are effective at content marketing, 23% in the adolescent phase say they are effective at content marketing, and 6% in the young/first-steps phase say they are effective at content marketing.
How often are you meeting with your team? How can increasing your meeting frequency (with worthwhile meetings, of course, not meetings for the sake of meetings) increase your effectiveness?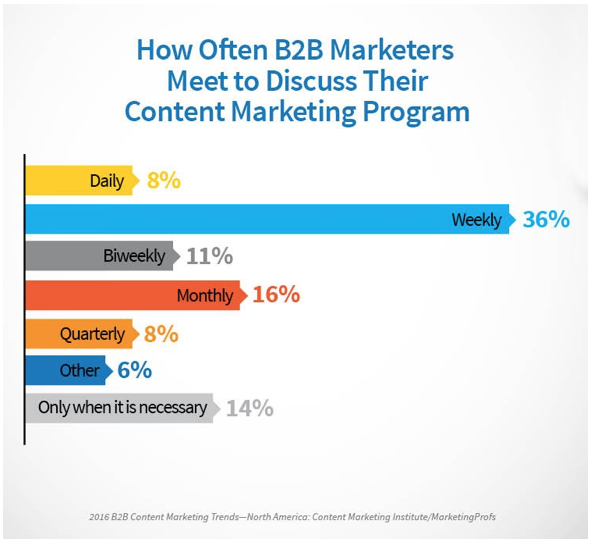 We're always looking at how our research can be not only interpreted, but also used by our community to help their own content marketing efforts. With that said, we are holding a #CMWorld Twitter chat next Tuesday, January 12, 2016 at 12pm Eastern to break down some of these ideas and findings from the research. Join us! Our special guest will be our own research director, Lisa Murton Beets, and we'll discuss the following questions:
Q1: Sometimes content marketers are doing all the right things, but their overall effectiveness is stagnant. Why may this be? #CMWorld
Q2: Fewer than half of #B2B and #B2C marketers know what content marketing effectiveness looks like. Why is this number so low? #CMWorld
Q3: More than 70% of marketers report they plan to create more content in 2016 than last yr. Is this surprising? #CMWorld
Q4: Each year, marketers report they plan to create more. Is this surprising in age of quality over quantity? #CMWorld
Q5: Firms in mature phase of content mktg are often more effective than those in early stages. What can those in young phase do? #CMWorld
Q6: B2B and B2C marketers use an average of 6 social channels to distribute content. Too much or is this needed to reach people? #CMWorld
Q7: What questions do you have about content marketing that you'd like to see us report on in next year's research? #CMWorld
Q8: Which other research reports do you rely on to provide information about content marketing? #CMWorld
We hope to see you next Tuesday for a lively discussion and great insights. Follow us at @CMIContent and @lisabeets, along with the #CMWorld hashtag.
Also, check out our research page to see our 2016 Content Marketing B2C, Nonprofit, UK and Australia reports! 
Are you ready to take the next step toward content marketing success? Join us at Content Marketing World 2016, the largest content marketing event on the planet. Make the time and the investment today! Use code BLOG100 to save an additional $100 off of our super early bird rates.
Posted January 8, 2016 in: Event by Cathy McPhillips
---