Content Marketing World is part of the Informa Connect Division of Informa PLC
This site is operated by a business or businesses owned by Informa PLC and all copyright resides with them. Informa PLC's registered office is 5 Howick Place, London SW1P 1WG. Registered in England and Wales. Number 3099067.
2017 Content Marketing Predictions: A #CMWorld Chat with Joe Pulizzi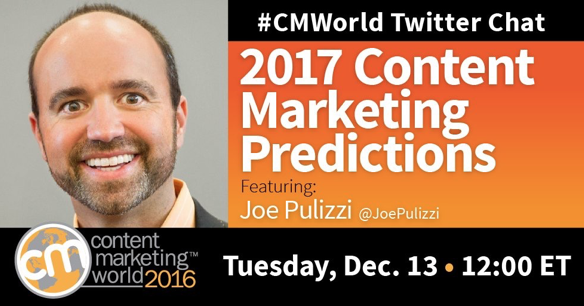 Today's #CMWorld Twitter chat revolved around one of our favorite and most-discussed topics: Content Marketing Predictions for 2017. Each year (9 years running!) Joe Pulizzi and other thought leaders in the industry share their predictions for the coming year.
This week, CMI's Founder, Joe Pulizzi, joined us as we looked at eight of the predictions. As always, our community chimed in with their thoughts. As you look ahead to 2017, we hope this provides you with some good ideas, whether realistic, or whether we're reaching for the stars. Either way, we hope it's inspiring and useful to you.
A few takeaways from the chat are below. Visit this chat's Storify to see more tweets on this topic.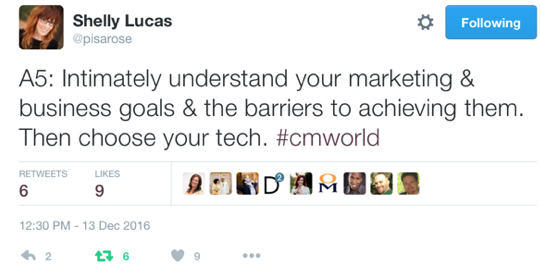 As our industry becomes more tech-heavy and tech-dependent, now, more than ever, we need to maintain a human approach toward our customers.
Dynamic content can be very effective…if done well. 
Visit the CMI SlideShare page to download the 2017 Content Marketing Predictions e-book and to look at our other presentations. And of course, join us every Tuesday at 12pm EDT on our #CMWorld Twitter chats. This is our last chat of 2016 – we'll see you January 10, 2017 when we talk about content marketing resolutions!
Posted December 13, 2016 in: Event by Cathy McPhillips
---
UP