I'm not talking about promotions or marriages here. But if we looked into a crystal ball, how is the landscape of our industry changing? What should marketers be focusing on?
Combing through the many predictions out there can be challenging. Not to be deterred, we asked CMI Chief Strategy Advisor and Founder of The Content Advisory, Robert Rose to break it all down and give us his take on content marketing in 2019.
(Before we dive in, you'll want to read Robert's prediction, as well as the predictions of dozens of other content marketers, in our latest e-book.)
Not only did we grab great insights from Robert, but our community shared their thoughts. Some predictions they believed were off base. Others they found to be spot-on. The following is a brief look at two questions from this week's chat. We covered a lot of ground, so be sure to check out more questions and their responses in our Twitter Moment.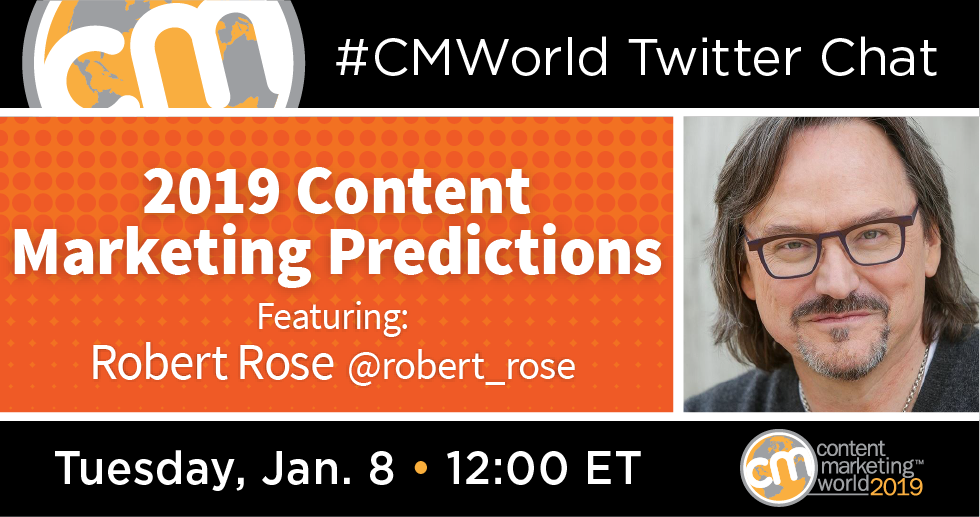 CMI General Manager Stephanie Stahl believes GDPR is a reminder we must earn audiences' loyalty and trust. How can we be more strategic in creating more genuine experiences for our customers and building/keeping that trust?
Many experts believe content marketers will be under increasing pressure to prove ROI. What equation do you currently use to determine ROI? What will you experiment with this year to attempt to achieve a higher return?
Do you have a prediction for the new year? Let us know in the comments below.
As for our crystal ball, we see new Twitter chats in our future. Have a guest you'd like to suggest? A topic you want covered? Tweet me and let's discuss!
Want to attend a conference but can't bear to wait until September for Content Marketing World? Then attend ContentTECH Summit. You'll hear keynotes from Robert and Henry Rollins, as well as sessions by Vishal Khanna, Allison Wert, and many others. Super Early Bird rates expire this week so don't delay and grab your ticket now.
Posted January 9, 2019 in: Event by Monina Wagner
---