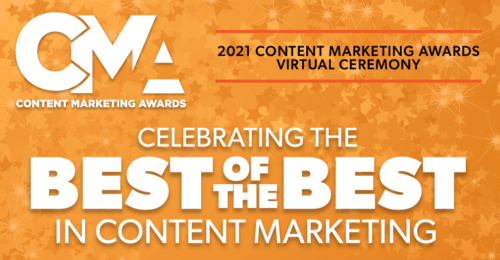 The 2021 Content Marketing Awards may have looked a little different than years past but the pride, excitement, and honor the recipients felt remains the same.
This year the awards were presented in a special digital format thanks to sponsor TwentyThree, an integrated webinar platform provider. The Content Marketing Awards is the largest and longest-running international content marketing awards program in the world.
Now for what you've been waiting for – the winners. Can we get a drumroll please?
via GIPHY
Your 2021 CMAward top prize winners are:
Content Marketing Agency of the Year (less than 100 employees): Foundry 360 – New York City, New York
Content Marketing Agency of the Year (more than 100 employees): Pace – Greensboro, North Carolina
B2C Content Marketer of the Year: Claire McIntosh – Editor in Chief, Sisters From AARP; Senior Editor, AARP The Magazine and AARP Bulletin, AARP
B2B Content Marketer of the Year: Jessica Bergmann – Vice President, Content and Customer Marketing, Salesforce
Content Marketing Project of the Year: Leading Through Change – Produced by Salesforce
Also honored at the ceremony was the B2C Branded Content Campaign of the Year winner, The King of the 2020 VMAs produced by Burger King and Velocity, ViacomCBS, as well as the B2B Branded Content Campaign of the Year, The Rain Group Campaign Helps Sellers During the Pandemic, produced by The Rain Group.
"It's such an honor to recognize and celebrate some of the most innovative and successful content marketers in the world every year during the Content Marketing Awards," shares Stephanie Stahl, general manager, Content Marketing Institute. "It's clear that while the pandemic disrupted and changed our work, innovative and creative content marketing did not stop."
While these are the winners of the top Content Marketing Award prizes, there were also 87 individual category winners that we announced back in August. See a full list of all the winners here.
Missed the awards ceremony? Catch it on demand here.
Wondering about the 2022 Content Marketing Awards program? Visit the website to be notified when next year's program opens.
Congratulations to all our winners and finalists! We look forward to seeing many of you at Content Marketing World next week.
Posted September 20, 2021 in: Event by Amie Cangelosi
---