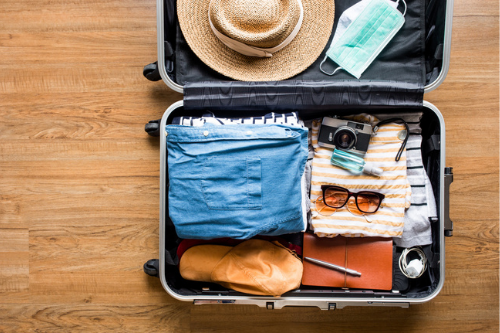 I'm a horrible packer. I wait until the last possible moment, have a near nervous breakdown about being unprepared and then proceed to pack like I will never be returning home – 10 shirts, 12 pairs of pants/shorts, and at least 6 bathing suits (because I am always ready for a swim even when it's 50 degrees outside?). All for for a 3 day trip.
Side note: This isn't even an exaggeration. I counted on my last trip knowing I would be writing this article.
The point is – don't be me. Here is a must-have packing list to take the stress out of packing for #CMWorld in Cleveland in just a few short days!
Clothing
While you won't hit all of the 225,000 square feet of the Huntington Convention Center of Cleveland, the event does include a bit of walking. And as is Ohio, we could go through three seasons in late September in Cleveland, so a few options are always a good thing.
Orange clothes – It's a Content Marketing World thing. Joe Pulizzi will be adorning his best orange tuxedo but you don't have to get that fancy. Any dash of orange will do!
Zoom outfit – You read that correctly. We're doing something different for the party at the Rock & Roll Hall of Fame. We're asking everyone to wear their best Zoom outfit. You know the one – nice blouse on top and PJ bottoms. Do your worst!
Sweater – It can get chilly in the conference hall and September weather in Ohio can be finicky. Always best to be prepared!
Athletic Clothes – Our Creative Director started the CMWorld Running Club for all of you exercise fanatics out there. Don't miss your chance to log miles with fellow attendees. The group gets together Wednesday and Thursday at 6 a.m. Eastern. The orange starting line is outside the Convention Center's Lakeside Avenue entrance located at 300 Lakeside Ave E.
Comfortable Shoes – It's a large conference center, might as well be comfortable!
Sunglasses
Electronics
From staying connected to what's happening back at the office, to live tweeting sessions, to taking photos with friends old and new, our devices have become an extension of us, haven't they?
Laptop or Tablet
Phone(s)
Power cords, chargers, international converters
Headphones
Portable Charger
For Your Bag
We're not talking the bag you're packing to travel with, we're referring to the bag you will be carrying everyday around the conference center. Our advice? Make sure your bag's a comfy one you're OK carrying around for a few days.
Notebook – As much as I love technology, we all know how finicky it can be. Bring a notebook as a back-up or primary form of note taking.
Pens – Yes, plural. Nothing worse than having one malfunction mid-session.
Business Cards
Bandaids – I made this mistake once and never again. If you don't heed the comfortable shoes warning, these will be your best friend. Of course, we have them on site but always nice to have a few thrown in the bag for easy access.
Vaccination card or proof of negative COVID test – You can read more about our healthy and safety precautions here.
Face mask – While masks are currently not mandatory in Cleveland, we are strongly encouraging everyone to wear one.
Hand sanitizer – We will have sanitizing stations around the venue but if you want a personal bottle, we totally get it!
Books for speakers to sign (or purchase them at our on-site bookstore!)
Reusable water bottle – We'll have bubblers of water for you to refill.
Chapstick – We are a chatty bunch, plus convention centers are notoriously dry.
Vitamins and anything else needed daily – Keep in your bag/backpack rather than your suitcase, that way if you forget in the morning, you don't need to rush back to your hotel room.
Breath mints
Umbrella (hopefully you won't need it)
We hope this helps as you're pulling together everything for Content Marketing World 2021. What did we miss? Please leave a note in the comments so other attendees can benefit. See you soon! *
*What do you mean you're still not registered!? Well, come right on over here and we can help. Use code SM100 to save $100 on your ticket. See you soon!
Posted September 21, 2021 in: Event by Ashley Baker
---