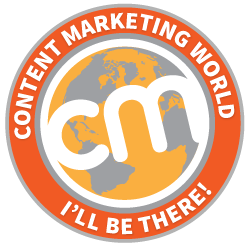 If you're like me you might feel shy at a conference, especially if you don't really know the people in attendance. Though Content Marketing World and other conferences provide plenty of opportunities for networking, it takes a burst of courage to walk up to people you don't know to say hello. That's why social media is the ultimate ice breaker. It allows you to meet and get to know conference attendees ahead of time, so when you arrive at the opening networking reception you'll find familiar faces and people to chat with. 
Fortunately, it's easy to spot Content Marketing World attendees.
They're Hanging Out On the #CMWorld Hashtag
Whether they're talking content marketing with other like-minded professionals or participating in our weekly #CMWorld Twitter chat, you can find other Content Marketing World attendees sharing tips and tricks. It doesn't matter if you're just starting out or a seasoned pro, everyone is happy to share on the #CMWorld hashtag.
Don't be afraid to jump into a conversation, either. If you see people talking about something that interests you or if you have a question for a member of the CMWorld community, all you have to do is ask. Soon, you'll find many familiar names among our friends on Twitter and begin to cultivate some valuable relationships – the kind of relationships that can lead one to become a client, or a long-time friend.
They're Joining the Conversation in the CMWorld LinkedIn Group
If Twitter is a little too noisy for you, you might be interested in the more organized conversations the Content Marketing World community are having on LinkedIn. More than 6,000 content marketing professionals are taking part in discussion topics ranging from planning and management tools to CMWorld news to advice for those hiring content marketing professionals. Plus, members are sharing their own blog posts and tips for content marketing success.
They're Displaying Their Intentions With Pride

The best way to identify Content Marketing World attendees is by the badge proudly displayed on their blogs and websites. You can join them by downloading the Content Marketing World attendee badges so everyone knows you'll be there!  You'll find the CMWorld community to be a loyal bunch and once they see your badge, they're bound to visit your blog or website more often.
Now that you know how you can join in the conversation, we hope you won't be a stranger. We can't wait to recognize you in September!
Posted May 8, 2014 in: Event by deborahng
---