Our guest contributor Pam Pulizzi is the former head of operations of the Content Marketing Institute, and is currently the Executive Director of the Orange Effect Foundation. For the past few years, CMWorld has raised funds at our event for the Orange Effect.
I tell people that for me, Content Marketing World week is like Christmas. I get to see all my friends and I get to learn so many new things from them. This year, though, I really took the time to pay extra attention to interactions going on around me. To absorb the orange love that resonated through Cleveland for almost 5 full days.
Some things I noticed that made me realize what a wonderful community has been built in #CMWorld.
1. CMWorld attendees remember things. It's not small talk at all – it's genuine interest. I was talking to Carmen Hill (previous CMWorld community champion recipient), and Andy Crestodina came up to wish her a happy birthday because he remembered that her birthday was always the week of the event. A similar thing happened with Jonathan Crossfield.  People had seen on social media that he had his first grandchild and they came to congratulate him. These small but hardly inconsequential gestures make our community what it is, and they happen all the time.
People asked me about Orange Effect Foundation. They truly seemed to care about how the organization is doing and how our son Joshua is doing. They commented on the video we showed at the event and offered to share it with their networks. And the thing is I know they'll actually follow through and share, donate and more, simply because….
2. The CMWorld community is the hardest working group of people I know. During Content Marketing World alone, they are writing blog posts and tweeting and commenting while at the same time working on their strategy for their clients or company. This post from Dennis Shiao showed up mere hours after the speech was given!
3. CMWorld community members not only work hard, but play hard. This is a key component of a great community. They take time to enjoy the little things and the big things. For example, you should have seen them all rolling around with the puppies during Yappy Hour at the event.  (Disclaimer: Funds raised at Yappy Hour went to City Dogs and The Orange Effect Foundation.) There was laughter and smiles between – and during the learning at CMWorld. I may have also heard about some serious karaoke happening at Punch Bowl Social.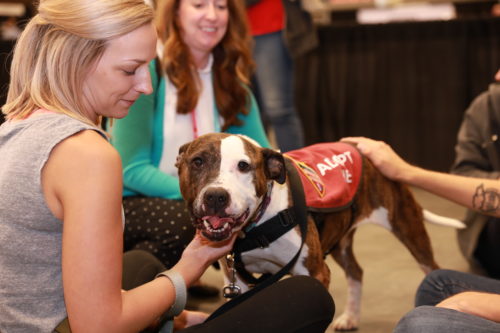 4. You will not find a more reliable group of people. For me personally, I think being reliable is a trait I would want people to say about me. It's right up there with "she's honest and sincere." Reliable because when they say they will follow up, they do.  When they say they will send information over, or make an introduction, they do.  When they say let me know if you need anything, they really mean it.
In summary, when you have a group of people who are vested in you (they care and remember what is going on with you), work hard and play hard, and are reliable, you enter a community where great things happen.
As a personal thank you, thank you to those friends and industry peers I've met over the past nine years. Thank you to those that stopped in the expo hall and the convention center hallways to say hello and give me a hug. Thank you to the new people I met who asked about the Orange Effect Foundation. Thank you to those that donated to help children in need. There's no community, in my eyes, quite like this one.
Want to connect with Pam? Find her on Twitter at @PamKozelka. Or, do her a favor by sharing Orange Effect Foundation's FUND60 campaign. Collectively, our CMWorld community can make a difference for children working hard to better communicate.
Posted September 19, 2019 in: Event by Monina Wagner
---