A conference that's full of professional benefit, yet manages to never feel like work, Content Marketing World has amassed a growing number of enthusiastic attendees in its first three years. Whether you're a potential first-timer still unsure whether to take the plunge, or a seasoned veteran still making the case for funding your trip, we've got just a few of the many good reasons to join us this year.

1) Meet the storytelling stars of the content marketing world. 
You know all those names you see show up again and again in posts and articles about content marketing? They're coming. 
Naturally, Joe Pulizzi will be there front and center. You can count on seeing many of the other most influential and successful characters in the content marketing industry as well though, like our keynote speakers Andrew Davis and Julie Fleischer, and other key influencers like Ann Handley and Scott Stratten. 
2) Network with the largest group of content marketers anywhere. 
Calling it Content Marketing World isn't an exaggeration. This is the largest gathering of content marketing professionals on the planet…the perfect place to be to meet others in the industry. 
It also means you get access to a range of perspectives: from content marketers working at the enterprise level to those working with small businesses, and from high-level content strategists to a wide range of content creators.  You'll definitely leave Cleveland with a new list of professional contacts, and probably some new friends as well. 
3) Learn from content marketing's (literal) winners. 
Content Marketing World hosts the Content Marketing Awards every year, meaning you get a first look at which campaigns are considered the strongest in the industry. No matter your level of experience, there's always room to learn more, and seeing some of the best examples out there can be inspiring. As an attendee, you'll see many of the winners at the various CMWorld events, so you'll have some opportunities to connect and talk to them about their ideas and learn even more before the conference ends.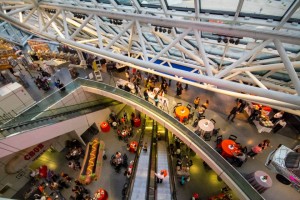 Visit the #CMWorld blog next week for four more great reasons to attend Content Marketing World 2014! The team at the Content Marketing Institute is excited for the event – to learn, to network and to meet so many in our #CMWorld community. Having each of you there would make our event the best. Register today! Our super early bird rates are good through February 28, 2014. 
Posted January 31, 2014 in: Event by Cathy McPhillips
---