Content Marketing World is part of the Informa Connect Division of Informa PLC
This site is operated by a business or businesses owned by Informa PLC and all copyright resides with them. Informa PLC's registered office is 5 Howick Place, London SW1P 1WG. Registered in England and Wales. Number 3099067.
8 Critical Questions for Marketers: A #CMWorld Twitter Chat with Joe Pulizzi
Yes, it's almost August. If you made New Year's resolutions, do a gutcheck. (I failed my gut in the spring, so I'm going to skip this part.) If you're a marketer, it's a good time for a realitycheck. Where do things stand when it comes to your content marketing efforts?
When we hear "content marketing efforts," we think of "documented strategy" and CMI founder Joe Pulizzi. Since we've hit the mid-year mark, we asked Joe to join us on a recent #CMWorld Twitter chat to help evaluate where we are. Now is the perfect opportunity to focus on what we can do over the rest of the year.
Joe shared eight questions content marketers should answer, and our community did not disappoint. What follows is a quick look at the hour and the responses shared.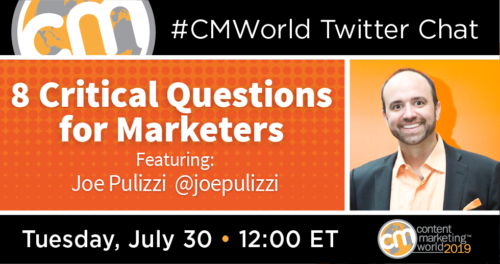 Are the media model and marketing model the same?
Why does an editor need to act like a marketer?
Are you tracking subscriptions and conversions?
Are you a social celebrity in the right places?
Are you stealing audiences wherever you can?
Are you serious about influencers?
Are you taking advantage of your email program?
Are you starting every editorial meeting with your mission?
This chat made us think. Know your goals. Identify areas of improvement. Embrace change. There's no time like the present to conduct a review. Without one, you won't be able to take a strategic approach to your efforts.
Have you done a mid-year checkup? Where's your content marketing headed the rest of 2019?
Don't get left behind. It's full steam ahead. Boost your content marketing program when you attend Content Marketing World, September 3-6 in Cleveland, Ohio. Use code SM100 to save $100.
Posted July 31, 2019 in: Event by Monina Wagner
---
UP