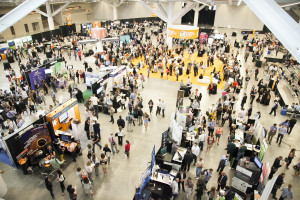 This guest post is submitted by Travis Wright, Chief Marketing Technologist at CCP Global, who is also speaking at Content Marketing World 2015, and is the host of CMWorld Hollywood Squares, live at CMWorld on September 9. 
Everybody's heard about the MarTech stack (for those averting their eyes in the back row, it's a marketing technology stack of tools). I have a mission to dissect that stack piece by piece. Content is king, of course, and it's an integral part of any marketing team.
However, what makes a MarTech stack complete is more than just content.  There are many different areas of content tools to handle a wide array of use cases for strategy, planning, research, creation, curation, distribution, promotion, amplification, measurement and reporting.  During my presentation at #CMWorld, I'll be showcasing many tools that fit in these areas.  For a teaser, I wanted to go in depth on which types of tools that you may want to consider for your content marketing stack.
Content Planning  
Planning your content is just as important as writing and editing your content. If it's not well-planned then you won't be able to place it well and it has zero chance of going viral. If it's meant to be evergreen, it'll never be in thought leadership territory and it's basically not competitive. Why write something that nobody wants to read?
Content Research
Planning and research go hand in hand. You can't plan without research, and sometimes research leads you into new realms that are complementary—and that you've never thought of before! Seek out authority websites, articles, books and such to see what the experts are exploring.  gShiftLabs has a tool that allows you to focus on which keywords you should be building your content around.
Content Creation
Creating killer content takes great writing prowess, of course. However, it also takes drive, professionalism and getting it in front of an editor's eyes. Technically, great writers are easy to find. Great writers who deliver what, when, where and how they say they will is a different story.
Content Curation 
You can skip securing a writer all together and curate your content. There are several ways to do this, from offering a guest blogging post to getting permission from content holders to re-publish work. Some websites, such as Reddit, depend wholly on reader-generated content to thrive.
Content Distribution 
It doesn't matter how great your content is if it's not distributed. This can be even more challenging than getting fantastic content planned, researched and written or curated in the first place. It takes networking, dogged drive and knowing how to approach the right people. It can also mean knowing layout and formatting best practices—as well as search engine optimization (SEO) of course.
Content Optimization
Optimizing your content means several things, and a biggie is SEO. Including authority links, high quality images that don't reek of stock imagery, the "right length" for the platform and a writer's bio that complements the content.
Content Promotion & Amplification
Do SEO correctly and a lot of promotion will be done for you. There's a reason an "always goal" is to make content shareable. You want it in front of social media audiences, shared on blogs, included in email newsletters and (in an ideal world) featured in all the right media outlets. Again, this is more who you know than just what you write.
Content Measurement
Now that your spectacularly planned and researched content has been optimized, shared and distributed, you just sit back and watch the rewards roll in whether it's cash or fame, right? Not exactly. You need to measure your content to see where it succeeded, where it failed and how you can do better next time. Data and measuring should be delivered to you in a neat and easy to understand report.
Content Reporting
Here's the grand finale, the crowning jewel of your content tool belt. Content reporting tells you exactly what went right, what went wrong and helps you map out a plan to improve your content game. Luckily, there are a lot of other tools out there to help you out!
ScribbleLive is a tool that hits on many of these areas of your content marketing stack, like content planning, research, curation, optimization, and measurement. It can do quite a bit. If you're looking for competitive analysis to see what content is resonating with your competitors, check out CMWorld platinum sponsor, TrackMaven.
My presentation at CMWorld will cover tools of all types that you should consider when building your content marketing technology stack.  Both ScribbleLive and Trackmaven are just two of many content marketing companies that will be demoing their software at CMWorld.  So make sure you drop by the expo hall while you're at the event for tools for your Content MarTech Stack!
And if you haven't registered for CMWorld yet, WHAT ARE YOU WAITING FOR? Register for Content Marketing World today. (Editor's Note: Use code CMI100 to save $100 off of current prices!)
Posted August 19, 2015 in: Event by Cathy McPhillips
---