Whether you're driving across the country or just down Euclid Avenue, every road trip needs good music. We recently asked the CMWorld community to share their favorite tunes. Some will have you belting out familiar lyrics. Others will inspire you and your adventure.
Headed to Content Marketing World? Get in the driver's seat and blast the radio with the CMWorld mix tape on Spotify. The soundtrack is a good blend of new songs and classics, shuffled to show off our community's eclectic taste.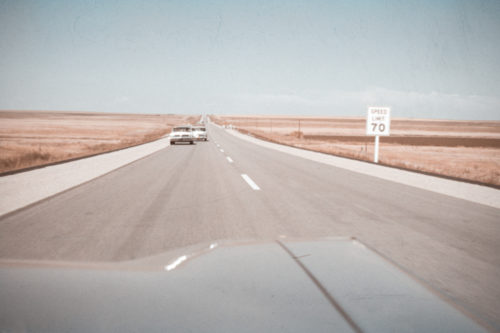 Here's a preview of what you'll hear.
"Panama" | Van Halen
"Panama is just a fun song that always makes me feel like jumping in the car and speeding somewhere fun. This video in particular is one of my earliest memories of Van Halen and gets overlooked a lot of times as one of their best songs. It may be because of that I don't feel like it gets overplayed, so I don't get tired of it."
–Jeremy Bednarski, Marketing Director, Goldstein Group Communications
"Beautiful Day" | U2
I chose "Beautiful Day" because it is one of those songs that instantly puts me in an upbeat mood, making it perfect for driving, especially on a sunny, beautiful day. It also reminds me of my friend Jeni from college, who would sing it whenever someone said the phrase, "It's a beautiful day."
–Emilie Moreland, Head of Content, Digital Room Inc.
"I Wanna Dance with Somebody" | Whitney Houston
"Whitney reminds me of my wife. It's a fun tune to just get into while I'm thinking of her! Plus Nothing's better than rolling down the windows and belting it out at the top of your lungs."
–Jason Schemmel, Owner, GSDChat
"Centerfield" | John Fogerty
"I associate road trips with summer. And summer is baseball season. I love the baseball angle of this song, especially the parts about 'new grass on the field' and heading for home. Secondly, the 'put me in coach' angle gets me motivated to take action. On a road trip, if I'm feeling a little sleepy, cranking up this song motivates me to drive another 20 miles."
–Dennis Shiao, Marketing Consultant, Dennis Shiao Consulting
"Celebration" | Kool & The Gang
"Seems appropriate when talking about CMWorld!"
–The Team at Allee Creative
My pick?
"Little Red Corvette" | Prince
"I like to pretend my mom-mobile is a shiny sports car speeding down Route 66. The roof of the convertible is down, and wind is blowing in my hair."
Maybe music isn't your jam. (See what I did there?) You're in good company. Taylor Barbieri would rather listen to podcasts. She says with all that free time, "you may as well use it to learn something new."
We curated a list of favorite podcasts on a past #CMWorld Twitter chat. You can find them here.(Editor's note: The article was published in 2017. A handful of podcasts may no longer be produced.)
What song or podcast tops your road trip playlist? Let us know in the comments below.
Many thanks to Lisa Murton Beets, Tricia Chaney, John Cloonan, Nido Colectivo, Erica Donaldson-Dipyatic, Becky Goplin, Wil Hart, Wayne Hendry, Stacey Holleran, Dana Lemaster, Cathy McKnight, Victor Immanuel Oloo, David Simanoff, Don Stratiset, Desiree Townsend, Phillip Thune, and the folks at Bentley University, Buzzcut Digital, Chronos Agency, Corl, Crowd Content, SEO Charge, and Social Animal for their contributions to this post.
Want to get your fans to listen? Discover how you can amaze your audience at Content Marketing World. There's still time to register. Get a $100 discount with code SM100. Saving money – now that's music to everyone's ears.
Posted August 26, 2019 in: Event by Monina Wagner
---