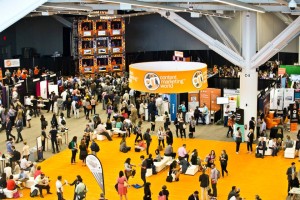 In planning meetings for Content Marketing World 2015, were discussing fun ideas playing off of the Hollywood theme of "Bright Lights, Big Content." The idea of building a Hollywood Squares game set came up in conversation, and everyone let out a chuckle – as if we'd really build a 30' game show set!
Not long after, Kelley Whetsell, our CMWorld event planner, called and asked, "How much do you love me? We're doing Hollywood Squares" Sketches had been drawn up, budgets had been approved, and space had been allocated in the expo hall for this. My response? I can't remember if it was a shocked, "You're kidding me" or if I was furiously clapping my hands in excitement. Chances are, it was both!
Our next job? Bring it to life.
Social Love
Teasers of the sketches were shared on Facebook and Twitter, and the response was fantastic. Attendees and our online community chimed in…asking how they could be involved! It was a great way for us to create buzz about both the event and the game.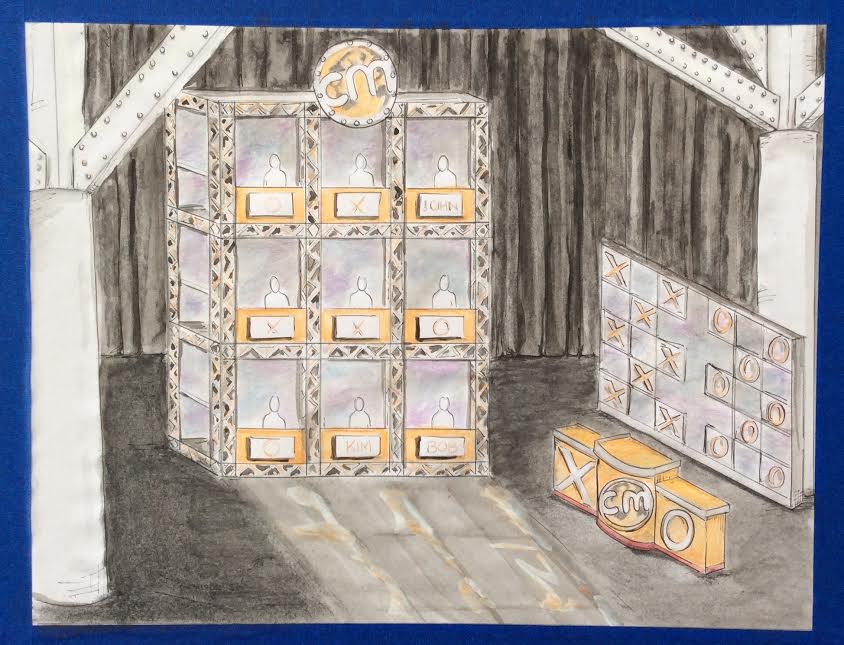 The Host
The critical parts of a Hollywood Squares game include not only stars/speakers/marketers to be in the squares and attendees to be contestants, but also a host! The host has the ability to set the entire mood and cadence of a game show, and this was a critical piece of our puzzle that had to be done right. Joe Kalinowski and I were together brainstorming on some of the game show elements, and when the topic of host came up, we both looked at each other and said, "Travis Wright" in unison. Travis didn't disappoint, and for those of you that know Travis, I can tell you that his preparation for his hosting responsibilities were thorough, borderline intense, and flawless, thinking of many small details (i.e. "Can you get me a vintage microphone? Orange cue cards? What should I wear?") that made the game that much better.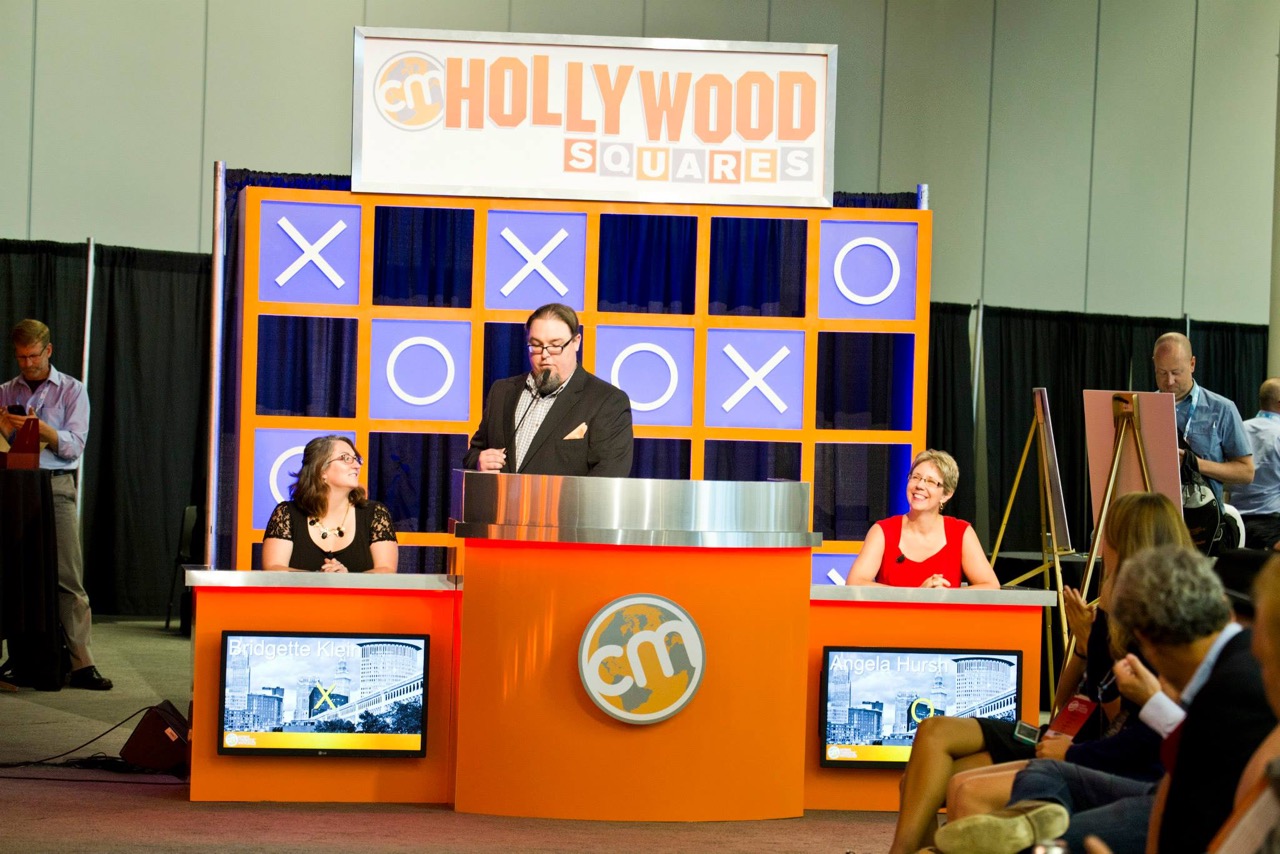 The Squares
Knowing we were going to play a Hollywood Squares game both days of our event, I was tasked with finding 18 smart, compelling and fun people to fill the squares. Tom Webster said he'd do his best Paul Lynde impression, we may have heard Carmen Hill scream an enthusiastic "yes!" from Portland, and the exchange between Gini Dietrich and myself was quite humorous and most likely NSFW. The other responses were equal in enthusiasm. Day one was filled with some of our speakers and other industry thought leaders.

Our second game included members of our Walk of Fame – our well-loved and most-appreciated five-year attendees. It was a great way to showcase our amazing CMWorld community from all over the world and those that have been staples at our event each year. We were thrilled with the chance to get these people in front of our CMWorld attendees, and to give back to them in some small way for all they've done for us.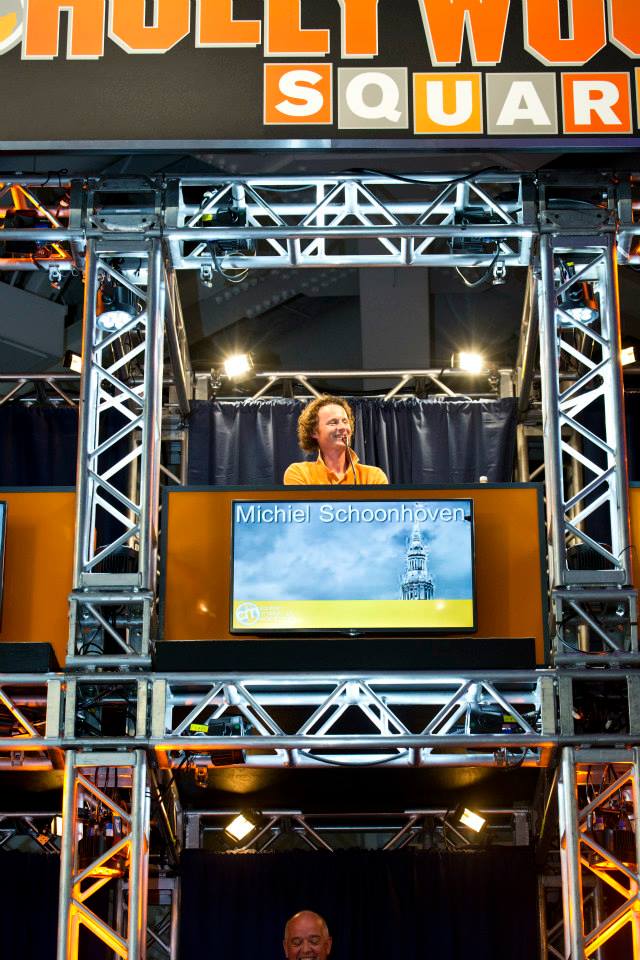 Many thanks to Joe Pulizzi, Andrew Davis, Lee Odden, Carmen Hill, Gini Dietrich, Julie Fleischer, Michael Brenner, Tom Webster and Jay Baer for being our Day 1 squares, and to Heather Taylor, Bernie Borges, Vince Giorgi, David Pembroke, Josh Miles, Deana Goldasich, Arnie Kuenn, Michiel Schoonhoven and Allen Gannett for being our Day 2 squares.
Congratulations to Angela Hursh, Bridgette Klein, David Kirk and Lisa Sands for being our lucky contestants, and big, big thanks to Travis Wright for his emcee and hosting skills.
The Contestants
Through social interactions and fun, we were able to select four total contestants for our two games, creating additional online buzz around the game and the event. One of our most engaging Facebook posts of the year was when we asked CMWorld attendees why they wanted to be selected as a contestant on Hollywood Squares! It was well-received, and the answers were fantastic!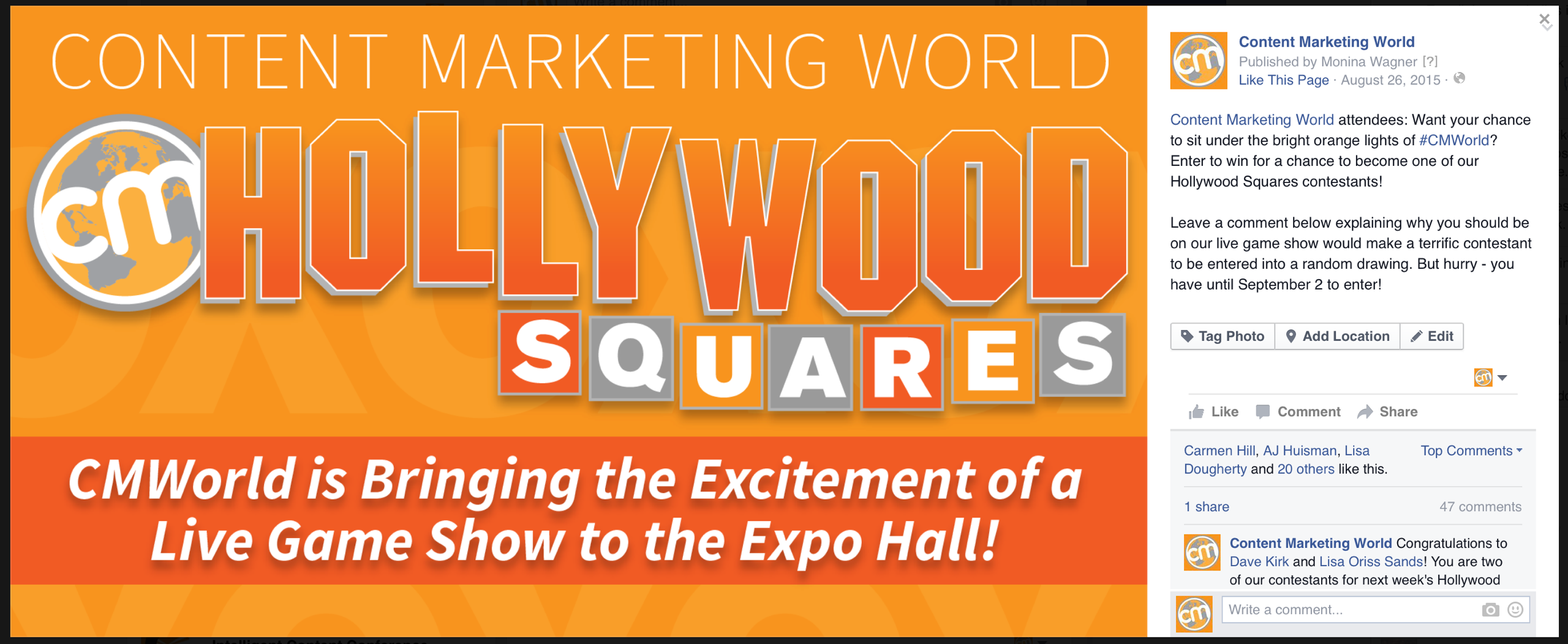 The Details
Realizing that there were nine squares in each game, plus the possibility of each day going into three games, with two days of Hollywood Squares games, we calculated that we needed anywhere between 54 and 70 questions. So we prepared 80! This was harder than we thought, but with the help of Jodi Harris from our team, we thought of questions ranging from CMI random trivia to CMI/MarketingProfs research questions to general marketing speak. It was a fun exercise, and prepared us well for the two days.
The questions and answers were then sent off to each of the Squares – we had a day one list, and a day two list. PDFs of the questions were sent in advance, and we also printed out questions and left them in the squares each day as a reference. This way, the squares could determine if they wanted to give the right answer or make up their own answer.
The questions and answers were also sent to Travis Wright, along with contestant and square bios so he could prepare himself for the big event.
Prizes for the winners consisted of front row seats to our keynote speakers – which was an exciting way to cap off each game.
What We Learned
Aside from it being an absolute stitch, we learned a lot from our first big effort with a game show running in conjunction with our big conference:
Preparation is critical, and input from many different team members and participants is very important to hash out minor details.
45 minutes doesn't seem like a long time for a game, but it is long enough that we needed to make sure to keep things moving quickly for our "studio audience."
Since this was during a networking break, having food and drink near the Hollywood Squares set was very important.
People love to laugh. This was a really fun diversion after mornings filled with learnings, data and note taking, and it gave attendees a chance to laugh and decompress for a little while.
Our attendees love to tweet and post on Instagram. If this wasn't the *best* photo ops of CMWorld 2015, it was most definitely close to the top of the list.
Now What? 
We now have tons and tons of metal in the form of a game show set, we have gorgeous seating for our host and contestants, so now what do we do with it? Being ever the efficient staff, we're in planning mode for our CMWorld 2016 game show. What game would you like to see played? Who would you like to see in the hot seat?
Watch our recap video to give you a look back on Hollywood Squares 2015!
Join us at Content Marketing World 2016 to not only see what is in store for our game show, but to also be part of our 4,000+-person marketing conference with some of the brightest and most generous people on the planet. Be prepared to learn more than you ever imagined, and be inspired by speakers and attendees alike.
See you in September! Registration is now open – and code BLOG100 saves you $100! Super early bird prices end 2/29/16, so hurry! 
Posted January 15, 2016 in: Event by Cathy McPhillips
---