The year is almost at an end. That's hard for me to believe since it feels like Content Marketing World was just yesterday.
Our community got together nearly every Tuesday in 2018. We kicked off the year chatting about pitching creative ideas without fear of rejection. And we ended it with greater confidence to set personal and professional goals.
As we look back at the last 12 months, content creation, creativity, and productivity are among the top topics of 2018. The most popular chats include:
And that brings us to today. We wanted 2018's final chat to be all about you. What happened, what didn't, and what's to come. Below are highlights of a lively, fast-paced discussion.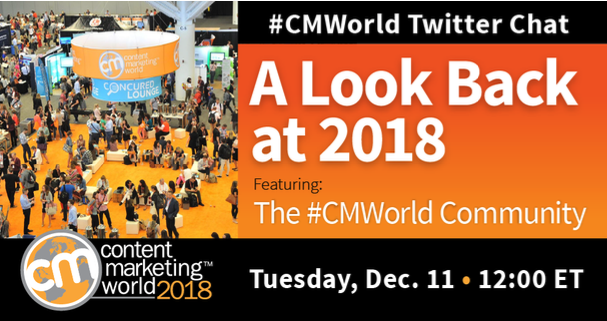 Allow us to show off for a moment. Here are some of the greatest successes our community members experienced this year.
But with the highs came some low lows.
But we persevered and are now planning for the future.
So, what's ahead?
You've set goals. The experts have made their predictions. And the CMI team is working on some exciting plans for our community.
Is there a way we can help you further your career? Have an idea for a future chat? Want to share a suggestion on we can better serve our community? Let us know in the comments below.
Thank you for making 2018 a spectacular year. Here's to 2019. Cheers!
Let's take our Twitter chat offline and meet up! Attend Content Marketing World, September 3-6, 2019 in Cleveland, Ohio. Get the best available rates when you register before New Year's Eve.
Posted December 12, 2018 in: Event by Monina Wagner
---