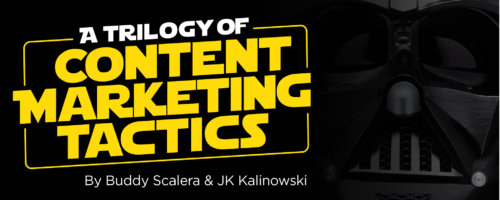 Joseph "JK" Kalinowski is the creative director at the Content Marketing Institute. Buddy Scalera is a speaker, author, content strategist and Content Marketing World speaker. These colleagues and friends share a love of design and science fiction and have put together this great post for our community. Enjoy!
So that's it. The end of the Star Wars nine-ology. The epic story that George Lucas has finally completed. It took 41 long years to tell a family drama in a galaxy far, far away.
The foundational movies have concluded, but the marketing and licensing will live on for generations. The best part? There are strategies and tactics from the business side of Star Wars that we can leverage for our own Force-guided content marketing plans. And some that we can't leverage, which is just as important to recognize.
Join us on a short journey where we explore some of the brilliant marketing strategies from Star Wars that you can consider for your own content strategy. We will identify simple, smart, visual content strategies that encourage discipline, planning, and best practices for your brands.
The Content Marketing Force is with all of us. We just need to know how to use it. Here is a trilogy of stellar things content marketers can learn from 41 years of marketing Star Wars.
Stellar Learning #1: Content Repurposing
Star Wars was the first science fiction film to be considered a summer blockbuster. When the film debuted in the summer of 1977, people lined up around the block to see this epic movie with spaceships and strange-looking aliens.
The 1975 film Jaws was the first film to be anointed as a "blockbuster." Following that, the 1976 film The Omen was the second Hollywood blockbuster. If you're familiar with those films, you'll recall that they are both in the horror genre.
But in 1977, science fiction was hardly the genre that would get people standing on long lines in the summer sun. Plus, the film featured few recognizable actors and the story was by a director best known for a fizzy film about diners and street racing. So what was it that got people through the doors? (Hint: content marketing.)
Producers at 20th Century Fox recognized the need to build advance awareness and hype around the movie release. But with no internet and a limited science fiction fanbase, they had few options. One thing they did know was that their target audience of young people read comic books.
The film producers reached out to their contacts at Marvel Comics to discuss a movie adaptation. While television and film adaptations were common in comic books, Marvel comics was known primarily for publishing their own characters. Hence, Marvel's initial reaction was to reject the idea. It would not be the first time that the unknown film was rebuffed by collaborators. Toy manufacturer Mego Corp also passed on the opportunity to create a toy line for the movie.
Marvel's own Stan Lee didn't see the potential, but his erstwhile editor Roy Thomas recognized good content that would appeal to their readership. Plus, Marvel was experiencing a downturn in sales and needed all the cross-promotion they could get.
Marvel created a 6-issue comic book series based on George Lucas' film script. They timed the release of the first three issues with the movie debut, giving readers a chance to see the first half of the movie on the printed page, but then forcing them to go to the theater to see how the movie ended. Otherwise, they'd have to wait another three full months to get the last three issues. At that point, fans realized going to the theater was the only option. And the lines began to wrap around the block.
By the time the movie was out, Marvel couldn't print Star Wars comics fast enough. Not only did this rescue Marvel at a key time, it created a new marketing model of content repurposing. Film producers recognized that their core film script was a strong content asset. By allowing comic book publishers to repurpose their content in a different medium, they were cross-pollinating their intellectual property. And, as if you don't need enough reasons to read Killing Marketing by Joe Pulizzi and Robert Rose, they also created an additional revenue stream. Compared to the movie, the comics were a small revenue source, for sure. But as content marketing goes, it was literally content worth paying for (see also Youtility by Jay Baer).
What we can learn
Star Wars is revered among marketers for their expert cross-pollination across all manner of plastic objects. They guided collaboration and licensing to the next level with their partnerships with toy manufacturers, game companies, and other things that would appeal to their target demographic. They even managed to turn their cross-marketing with Marvel Comics into a profit center.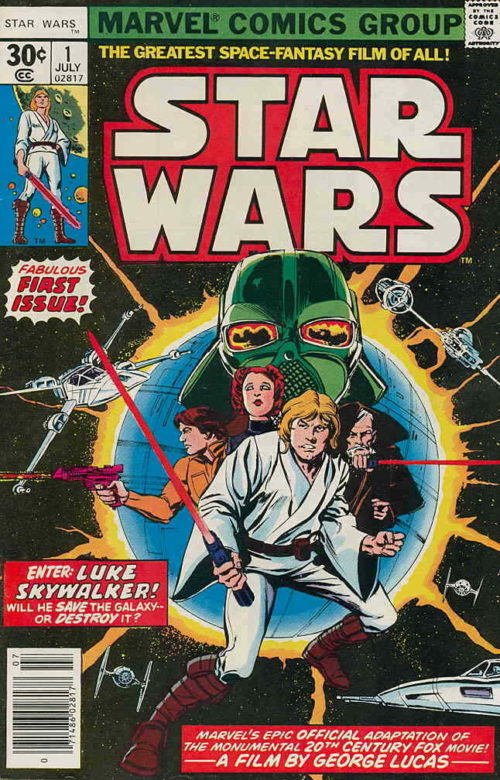 Strategy takes time. Most brands aren't patient enough to build the kind of foundation required to seed their content the way the promoters of Star Wars did. It would have taken several months to build a relationship with Marvel Comics, get the first three issues produced, and time those first three issues to launch with the movie.
Many modern marketers are expected to deliver immediate results. There's not enough time built into content marketing strategies these days. If you've ever launched a social media campaign, you know that the analytics reporting starts the day after you go live.
If at all possible, take the time to understand the psychographics of your audience and build personas that will enable you to know where to put your marketing efforts. These disciplined best practices will help you with engagement and conversions. Taking a bit of extra time will also help you to explore marketing efforts that are potential revenue streams. Companies like Red Bull, Cleveland Clinic and Arrow Electronics, have famously taken their marketing beyond simple messaging.
But this takes time and patience, which is in short supply these days.
Stellar Learning #2: Dominate One Medium
These days, brands launch multi-channel campaigns. Brand managers hope to "fish where the fish are," which makes sense for launches that are well funded. But the money spigot usually does not remain open for long. Budgets stop flowing and campaign dollars dry up after the newness of a brand launch has faded.
Today we look at Star Wars as an epic cross-marketing juggernaut. There are movies, TV shows, animation, action figures, novels, comic books, audio books, live events, theme parks, and more. Everything ties into the same story canon for fans who appreciate a complete and consistent experience. But it wasn't always that way.

Star Wars was a movie. Before it was anything else, it was just a movie. Sure, there were a few other tie-ins like the comics, but people knew that Star Wars was a movie. They focused their attention on the one thing that mattered for movie producers: getting people into the movie theater.
What we can learn
Advertising, marketing, public relations, and other promotions were arrows pointing to the box office. These were tactics designed to serve the one medium that mattered most: film.
These days, brand teams are besieged with requests to support established and emerging channels. If you listen to the This Old Marketing podcast, you will hear Joe Pulizzi and Robert Rose refer to the marketing in joke "what's your TikTok strategy?" In truth, there's nothing wrong with TikTok and it actually may be a good channel for you to reach your audience.
But for every dollar you spend on TikTok, you have to take that dollar away from something else. If you want to be on TikTok, then go strong. Focus. The same goes for Instagram, YouTube, Facebook, or Twitter. You must go strong in these channels to build your audience.
There are good reasons to deliver your content in multiple channels. If you have the resources, your brand can customize the content to ensure relevance in each channel. But that doesn't necessarily mean you will be successful in reaching your business goals.
Multichannel launches can be effective only if the organization maintains enough budget and staff to keep things going. By launching in multiple channels at once, it could dilute your budget and force you to make tough decisions as time goes on. The social media landscape is littered with brand handles that have petered out. This can be a reputational liability for a brand, especially if users try to use social media to communicate with the brand.
It's better to have a strong, loyal following in one channel than to have a weak presence in three. Building an audience takes time. Certain brands will try to leapfrog the process by throwing money at social media channels. This can be a good way to get started, but it rarely works when the brand is diluted over 10 or more channels, or has bought an audience that really isn't passionate about your product or service.
Focus and deliver your content marketing efforts on the channels that matter to your audience. Don't try to be all things to all people. Use your financial and attention budgets on the activities and channels that help you reach your business goals.
Stellar Learning #3: Reward Your Customers with Great Content
Did you hear that rumor that there were subliminal messages in some of the Star Wars movie posters? If you were a Star Wars superfan, you certainly did.
Movie posters are an artform that provides a wide range of creative options for movie promotions. Posters can be single-use asset for advertising. But for certain films, they are also fertile opportunities for additional content marketing. And, like comic books, can actually be a secondary stream of revenue.
The early Star Wars posters were basic tools that provided valuable information to movie audience. These posters reinforced that the core film would be a bold science fiction adventure…for people who liked that sort of thing. These were straightforward, clear visual messages.
As the decades rolled on, Lucasfilm became more daring with these visual assets. After all, they'd already cemented their branding. Anyone who would like Star Wars was familiar with the Star Wars universe.
This created a new opportunity for the content marketing team. They would certainly need to create movie posters for each upcoming film. They also knew that superfans and collectors would buy replicas to hang on their own walls. Why not give them a few Easter Eggs?
The word spread online that the Star Wars posters were chock full of secret designs. Of course, the fans scrambled to see if they could extract a few more drops of magic from their favorite film franchise. They were not disappointed.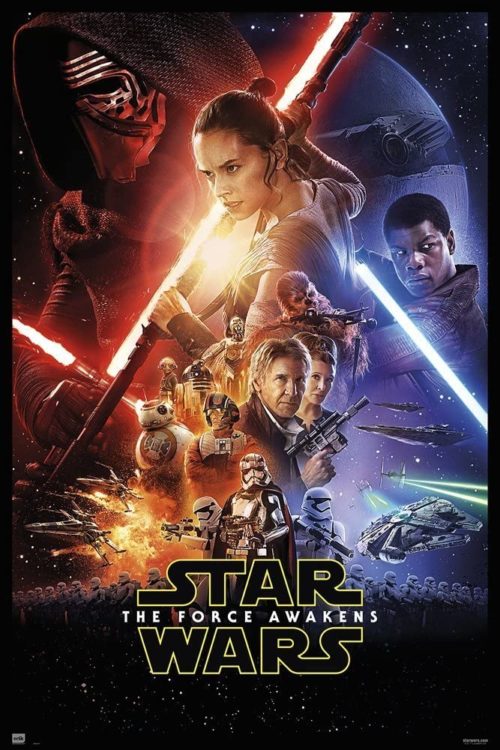 Clever designers recognized the outline of Darth Vader in one of the posters. The poster was still a great single-panel image for the movie. But the revelation that there was a hidden message…the face that launched a thousand ships (or at least a thousand blog posts).
Once the cork was off the bottle, even casual fans wanted to see it. Once again, the content marketing for Star Wars became remarkable and buzzworthy. It was more than just marketing. It was marketing that people wanted to share. It was a content asset that would be a marketing asset that fans would be willing to buy.
Star Wars promoters didn't need to do much more than just make a basic poster. They could have checked the box and hung the posters. But by creating something special for the fans, they exceeded expectations and created additional buzz.
What we can learn
This doesn't work for every brand. There are categories that can't even consider doing anything quite this daring or creative. But then again, there was a time when selling insurance wasn't done with recurring characters in funny situations (e.g., Flo from Progressive or Mayhem from Allstate).
However, for the categories and brands that can do this, it's worth exploring. It's an opportunity, not an obligation. The first requirement is that the asset is effective. In this case, the movie poster had to serve the purpose of promoting the movie.
Star Wars producers have a solid understanding of their target audience. They also have a complex relationship with them. They know that whatever they create will be carefully analyzed and deconstructed. By seeding Easter Eggs in the movie posters, they gave the audience something to discuss. Their assets literally transcended the poster medium and became part of the fan experience.
Subliminal messages are seeded all the time. The marketers at Star Wars didn't invent the idea. Instead they just found a way to create a great movie poster that would be shareworthy on social media channels.
Brands with established fan bases — especially those with an enthusiast community — should consider how they can contribute to the conversation. Those brands should explore ways to nurture the care and feeding of the community. That is, don't just use the community as targets for message blasting. Think about how content can be used to surprise and delight your customers…and how this will turn into discussions and more.
Back to Our Galaxy
It's easy to deconstruct and analyze Star Wars for content marketing purposes. We see the cumulative effect of decades of marketing with the benefit of hindsight. For every Star Wars marketing success, there are undoubtedly hundreds of failures.
Lots of marketers and movie producers have tried to replicate the success of Star Wars. Few have succeeded and many have failed.
It's also important to remember that we are looking at the final products. We can deconstruct the assets and try to understand the strategy, but that's just educated guesswork. In reality, we know very little about the actual marketing strategies beyond what we've read in books on the history of marketing.
Consider this kind of deconstruction more inspirational and practical than actually historically accurate. But learning and creativity can be fun and still reach serious business goals. And that's a Force that lives in all of us.
As such, we should take a hard and critical look of marketing successes and failures. That kind of critical thinking is crucial to bringing daring and creative new ideas to the brands that we represent.
Back here on Earth, we can learn from the daring marketing that helped Star Wars to become a brand recognized anywhere on earth or beyond.
Are you looking for ways to make your marketing even more daring? Join us at Content Marketing World 2020 as we "Break the Rules" and help brands and agencies stand out. KALINOWSKI100 saves $100. Register today!
Darth Vader and Foundational Content
By JK Kalinowski
I saw Star Wars in the theaters for the first time as a tot in the summer of 1977 (and subsequently seven more times in the theaters before its sequel was released in 1980). Yes, it got to the point where my mother would take me and my brother, get us all set with our popcorn and snacks, and then she would drift off to sleep curled up in the old, uncomfortable seat at the Iris Theater in Cochranton, PA. The film was an incredible journey through the cosmos and a visual delight for a little guy like me. There were creatures, droids and beasts that were unlike any other that were on the silver screen. Of all George Lucas's creations, one omnipresent figure ultimately became the face of the franchise: a large looming figure, dressed all in black with a black cape and helmet, with a deep brooding tone and a memorable angular face. You know his name: Darth Vader.
The Star Wars main baddie arguably became one of the most recognizable icons in movie history, especially in the realm of science fiction, mainly due to his look. Concept artist Ralph McQuarrie took note of Lucas's vision of Vader being the "essence of evil" and applied it to his concept design. Costume designer John Mollo brought Vader to life and history was made as Darth quickly became the bad guy everyone loved.
The visage of Darth Vader was prominently used on all of the original trilogy posters (A New Hope, The Empire Strikes Back and Return of the Jedi) and subsequently the majority of the advertising and content generated to promote the trilogy throughout the years. When George Lucas released the prequels starting in 1999 with "Episode 1: The Phantom Menace" he gave a hat-tip to the image of Vader as showing his shape in the form of a shadow cast off of a young Anakin Skywalker (for those who don't know, that was Lord Vader's name before he turned to "The Dark Side"). With the release of "Episode 2: Attack of the Clones," the official poster by renowned poster artist Drew Struzan raised eyebrows of Star Wars fans, especially ones with a little "creative vision" for lack of a better term. Struzan's Episode 2 official poster was the first to not show Vader… Or did it? Take a look at the original poster next to the one that I took the liberty of marking up. Do you see what I see?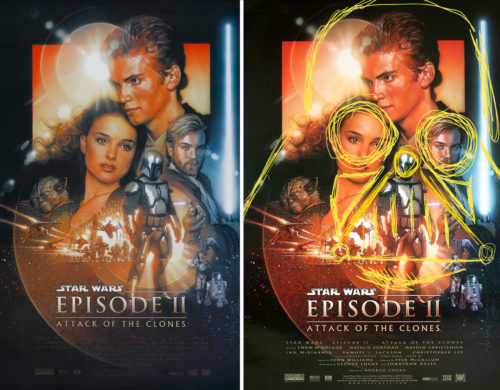 Cool, huh? So, let's fast forward to the official set of posters promoting the last trilogy (The Force Awakens, The Last Jedi and The Rise of Skywalker) Wait, what? Are you seeing this?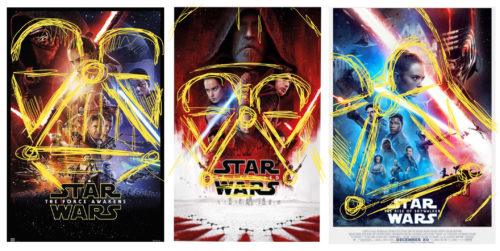 So, this leads to some bigger questions: Can you bury those beautiful "Easter Eggs" for your brand advocates in your content strategy? Are you able to subtly refer to a piece of foundational content in your overarching strategy without being so "in your face?" How can make a Lord Vader out of your message?
Posted March 18, 2020 in: Event by Buddy Scalera
---