Content Marketing World is part of the Informa Connect Division of Informa PLC
This site is operated by a business or businesses owned by Informa PLC and all copyright resides with them. Informa PLC's registered office is 5 Howick Place, London SW1P 1WG. Registered in England and Wales. Number 3099067.
Account Based Marketing: A #CMWorld Twitter Chat with Carmen Hill
An increasing number of marketers are embracing account-based marketing. But what exactly is ABM and what does it mean for our content marketing? We invited beloved community member and #CMWorld chat regular Carmen Hill to break it all down.
What follows is a brief look at the insights shared during the chat. For a deeper dive into each question and answer, check out our Twitter Moment.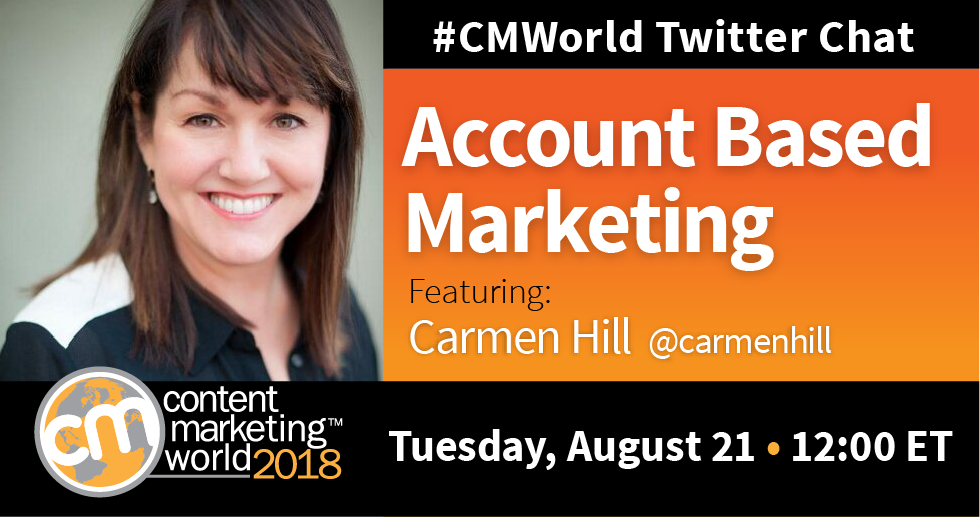 We asked our community to share their definitions of ABM and how they believed it complemented their content marketing. Here's what they had to say.
And now that we know how our community defines ABM, it's time to put in the work.
Want to take it a step further and put this knowledge into action? Carmen recommended these resources.
Want to learn more? Hear from Carmen and her co-presenter Julie Wisdom at Content Marketing World. They are presenting two sessions, including "Aligning Around an Account-Based Content Experience." Use code SM100 to save $100 when you register today
Posted August 22, 2018 in: Event by Monina Wagner
---
UP