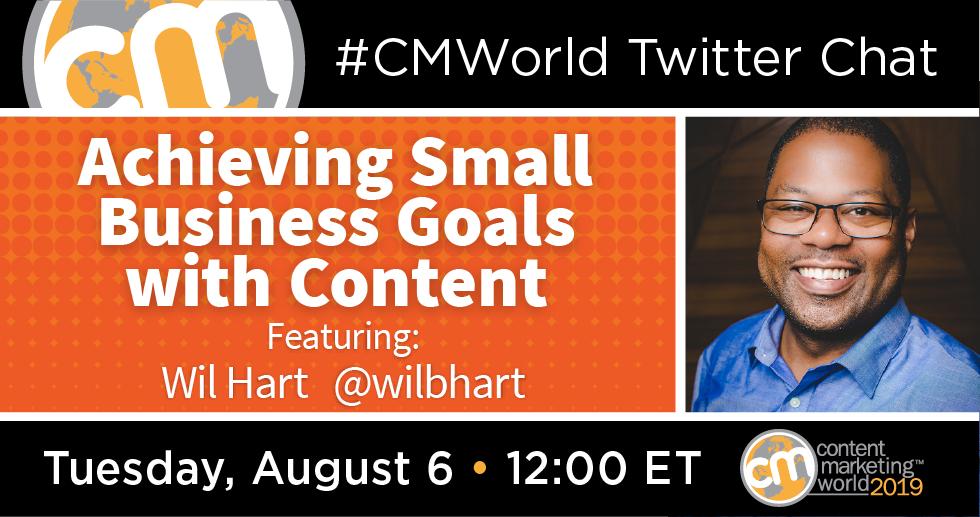 Budgets. Time. Resources.
Those are common challenges small businesses have when it comes to running their small operations. And it's no different in the marketing departments either. But, there are also some opportunities, and we heard about them today on the #CMWorld Twitter chat.
Wil Hart, COO of Smart Simple Marketing, joined us today for our weekly #CMWorld Twitter chat, and shared with us not only the challenges as a small business opportunity, but he shed some light on things that SMBs shouldn't overlook or take for granted.
There are quite a few small business owners and team members (or those that dream of one day having their own small business) in our community, so we were thrilled with the great turnout and conversation that took place.
Here are a few questions and the responses, but check out the whole Twitter Moment or review the #CMWorld hashtag for the full conversation.
We know what content marketing is, but when push comes to shove and you're a business trying to get off the ground without an established history, how do you even get started? What resources or people do we need?
Research has shown that small businesses tackle content marketing differently than their enterprise peers…and rightly so. What are some tactics that have worked best for your business or for small businesses you follow?
This was a fast-moving Twitter chat, and it definitely had some fantastic moments! We talked roller coasters at the beginning of the chat, and then we discussed the ups and downs of small business content marketing – how appropriate!
Thanks for those that joined us, and we hope to see you on a Twitter chat soon!
Don't get left behind. We're down to under four weeks for Content Marketing World 2019. Whether small business or enterprise or somewhere in between, CMI's flagship event being held September 3-6 in Cleveland, has something for you. Join us! Code SM100 saves $100.
Posted August 7, 2019 in: Event by Cathy McPhillips
---