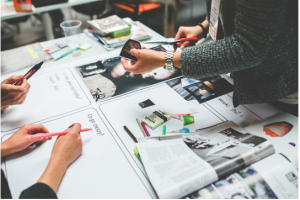 While we think it's now safe to say content marketing is no longer a buzzword, and that's great news for us content marketers/strategists, what does it mean for advertising agencies?
Since the beginning of the content marketing revolution, the reaction to it by advertising agencies has been all over the board. Some agencies simply labeled content marketing as the latest fad, while others have gone so far as to suggest that brands now need a content agency of record.
The truth, as usual, is probably somewhere in the middle.
Some agencies, like those on the CMI agency directory, identify themselves as content specialists. Others still have pivoted away from content marketing as a fad diet and cleverly proclaimed their belief that it's now a lifestyle choice.
It's hard to know which story to believe. But there's good news, my agency friends, and the key — as is usually the case — can be found in the story itself.
Because the reality is, the people who make ad agencies successful are the copywriters and art directors who create the messages we all talk about around the water cooler. And, if you think about it, these folks are already doing what content marketers must also do well…they are telling great stories.
In fact, some of the most successful brands in content marketing have worked closely with (or created their own) agency partners.
Brands like Kraft Foods, and Extra Gum have worked closely with agencies to successfully bring their content marketing visions to life.
Others, like Marriott and Red Bull have built their own internal shops…but they are employing essentially the same agency model, just inside their own walls.
Clearly, content marketing isn't going away — but ad agencies aren't either.
One of the great things about content marketing is that each brand must find its own way of doing it. There is no cookie cutter way. And, just as brands have to decide the best way to create, manage and distribute content for their specific audiences, agencies, too, have some decisions to make.
As consumers continue to gain more control over the messages they see, leading agencies recognize content marketing as another tool at their disposal as they help brands craft the stories we all talk about around that water cooler.
Want to learn more about how content marketing and ad agencies can work together? You need to join us at Content Marketing World 2016. There will be many sessions of interest, including an entire workshop dedicated to Content Marketing Agencies, led by PR 20/20's own Paul Roetzer.
Are you an agency type…or perhaps you're looking for one? Why don't we just head on over to the Content Marketing World 2016 registration page right now to learn more and get your CMWorld 2016 registration started! Code BLOG100 saves $100! And super early bird prices end next Monday, so take advantage of both discounts today!
Posted February 24, 2016 in: Event by Mike Myers
---