Content Marketing World is part of the Informa Connect Division of Informa PLC
This site is operated by a business or businesses owned by Informa PLC and all copyright resides with them. Informa PLC's registered office is 5 Howick Place, London SW1P 1WG. Registered in England and Wales. Number 3099067.
Agile Approaches for Marketers: A #CMWorld Chat with Andrea Fryrear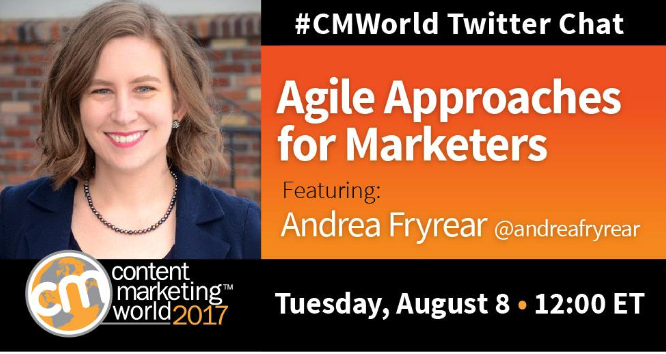 Are you looking for a better way to manage your team and processes? Agile marketing may be for you. What do marketers need to know about Agile and its approach? We discussed with Fox Content Services Founder Andrea Fryrear on a recent #CMWorld Twitter chat.
The following is a recap of our discussion. Want to learn more from our community on the topic? Check out our Storify page.

What's in it for us?
The benefits of Agile are still largely untapped by marketing teams. So why should marketers care about Agile? Fryrear has said Agile can offer a "path back to sanity" for overwhelmed and overworked marketers. Practicing Agile means producing work better and faster.
What mistakes should be avoided?
Switching to Agile is not without its problems. If you're considering adopting Agile, you'll want to be aware of some challenges.
Have you adopted an Agile practice within your organization? We'd love to hear about your experiences in the comments below.
Learn more about Agile marketing from Andrea at Content Marketing World. She'll be presenting a session on alternative Agile methodologies. Register now with code SM100 to save $100 at checkout.
Posted August 10, 2017 in: Event by Monina Wagner
---
UP