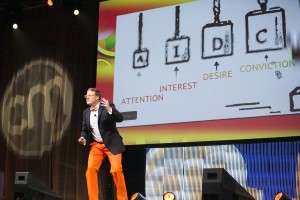 Every Thursday, a Scripted writer will recap a session from Content Marketing World 2014 that will be published here on the CMWorld blog. Find out more about Scripted by visiting their website.
After being voted Content Marketing World's 2013's top speaker, Andrew Davis returned to Cleveland in 2014 to give the keynote address. The former child actor turned Fortune 500 marketer and author kicked off his presentation by saying that the sales funnel had outlived its usefulness. Brands should start mining the beginning of the customer journey, the moment of inspiration, by using great storytelling to inspire. By missing the moment of inspiration, marketers fail to stimulate the customer's urge to act.
The Sales Funnel: It's So 19th Century
The urge to purchase, argues Davis, starts the moment that a customer feels inspired to seek a product or solution. For example, Davis, while searching for stock photos of meatloaf, decided to cook a meatloaf for dinner. Thanks to Google, Davis ended up with tickets to see Meat Loaf the artist and an enrollment in Ticketmaster's loyalty program. He eventually posted his Meat Loaf photos on Flickr, which reminded him that he'd needed the stock photos in the first place.
Elias St. Elmo Lewis invented the sales funnel in 1898 to describe how customers progress from becoming aware of a product to actually purchasing the product. Over a century later, marketers still use the sales funnel to map out how customers make buying decisions. Unfortunately, because Google gives customers the power to follow every imaginable tangent, as Davis did during his meatloaf quest, the sales funnel model breaks apart.
Why Inspiration Matters
Today, marketers create most content for the active evaluation stage because they buy into the sales funnel model. The active evaluation stage happens just before the purchase, when customers contain their emotions and start rationally comparing one brand to another. By focusing on creating content for active evaluation, marketers miss the first part of the sales funnel, the moment of inspiration. It's the moment of the impulse purchase, the moment at which customers will buy something they didn't know they needed.
Active evaluation-stage content appeals to the rational mind, and Davis argues that this is a mistake. It's a mistake that marketers make because it's easier to tie active evaluation-stage content to a customer's subsequent purchase. When management ties content creation to revenue, marketers get to create more content. Unfortunately, just because it's easier to prove that this type of content generates revenue doesn't mean that it's more effective at generating revenue.
Ironically, by working so hard to imprison content marketing within a rational sales funnel model, marketers rob themselves of the chance to generate much more revenue by using great storytelling to create moments of inspiration. Davis admits that great storytelling isn't easy, and it's challenging to tie story to revenue. Still, nothing has fueled consumer culture more than brands that have gotten customers to fall in love with them.
How Great Storytelling Inspires Action
To close out his presentation, Davis shares four secrets of great storytelling that can lead customers to moments of inspiration. First, a good story builds suspense, getting readers hooked on what's going to happen next. Second, great narratives fosters aspiration, tapping into what the audience deeply desires to be. Great storytelling also creates empathy, building a customer's emotional investment in the product or service. Ultimately, the best storytelling harnesses these emotions and compels the customer to take action.
Channeling neurologist Donald Calne, Davis concludes by saying that emotion leads to action while reason only leads to conclusions. He challenges marketers to think less like analysts and more like entertainment executives to create great storytelling. To capture emotion, even if ROI is harder to prove, content creation needs to target the moment of inspiration. Even though it's harder to justify to management in the beginning, it persuades customers to fall in love with the brand.
Aside from seeing Andrew Davis at #CMWorld 2015, you can also read some inspiration from him in every issue of Chief Content Officer magazine, in his column, Unsolicited Advice. Visit www.ccomagazine.com every other month, or subscribe to get a copy in your inbox or mailbox. 
Scripted provides high-quality, original content for a flat rate with a set turnaround time. Post guidelines for what you need, and five days later you'll receive professionally written and edited content.
Posted April 16, 2015 in: Event by Scripted Writers
---