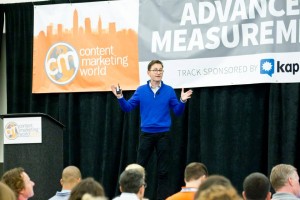 If you're inside the Chicago content marketing orbit, you're lucky enough to see and hear from Andy Crestodina on a regular basis. For the rest of us, how lucky we are to have social  channels and the Orbit Media Studios website to stay connected to Andy and his team.
MEETING ANDY 
I've been following Andy for some time, and was admittedly first introduced to Andy at Content Marketing World 2013, when he was walking around the halls collecting entries in his CMWorld Yearbook. For under $2, Andy was able to create an amazing piece of content, meet many, many folks at the event, and my gosh what a great conversation starter!
At that time, I didn't realize I was standing *thisclose* to greatness. You laugh, but I'm serious. (Foreshadowing alert: keep reading!) 
What I've learned from Andy over the past 2+ years has proved invaluable to me as well as many on the CMI team.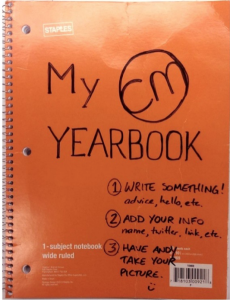 A LOOK AT ANDY'S BLOG 
Just like CMI preaches the power of content marketing, Andy preaches the power of search and analytics. Stemming from his company focusing on web design, Andy knows the value of not only having a beautifully-designed website, but also the value of people being able to find it.
These topics have resonated with me:
Web Design vs. Analytics: 5 Little Web Design Decisions That Cause Big Analytics Problems
Google Analytics: 21 Inaccurate Traffic Sources, Setup Mistakes …and Fixes
How To Improve Your Google Rankings: 9 Steps to Rank Higher Fast Using Analytics
And take a look…because what all of these articles have in common is this: They offer problems that you may (and probably do) have, and offer you step-by-step instructions on how to fix it. As Andy and his team learn and improve their own website, they're documenting what they found and are sharing that knowledge with you. Yes, this also includes gobs of expertise and isn't just their trial and error, but their hands-on approach has made it that much more useful to their audience.
REPURPOSING ANDY'S CMWORLD PRESENTATION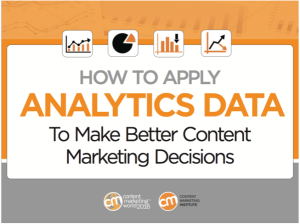 We've seen the "tiny" tweaks make some pretty significant improvements in our own analytics. In fact, we took Andy's CMWorld 2015 presentation and created an ebook that is now available for download: How to Uncover Critical Content Marketing Insights Using Google Analytics
Andy's presentation at Content Marketing World 2015 was a great one and we also wanted to share this 5-min video:
BIG ANNOUNCEMENT! 
As mentioned earlier, I have been in the presence of greatness spending time with Andy. Rated Content Marketing World 2015's highest rated breakout session speaker, Andy will return to Content Marketing World 2016 when he'll take the main stage. I can't even begin to tell you how thrilled the CMI team is to see this! Please leave any questions, comments, congratulations, topic ideas, etc. for Andy in the comments here, as he prepares for CMWorld 2016.
Please join us in Cleveland this September – you won't want to miss this – 4,000 marketers, 55+ countries, 200+ speakers, 100+ sessions, 96+ hours of fun, education, inspiration and more. Use code BLOG100 to save $100 off of our super early bird rates. But hurry, these rates go away on February 29, 2016. Register now! 
Posted January 18, 2016 in: Event by Cathy McPhillips
---