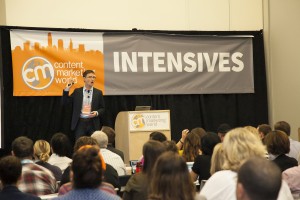 Every Thursday, a Scripted writer will recap a session from Content Marketing World 2014 that will be published here on the CMWorld blog. Find out more about Scripted by visiting their website.
The big question on a content marketer's mind isn't about creating content, but rather it's about measuring content success. Fortunately for many in the space, Andy Crestodina — co-founder and Strategic Director of Orbit Media — took the stage to discuss the subject at hand. This presentation offers a dynamic overview of content marketing, together with some practical insights on specific techniques you can use to get the most out of Google Analytics. Andy is a specialist in content strategy, and he speaks and writes widely on topics including SEO, analytics, social media and email marketing. Here's what he had to say about "Optimizing and Advanced Analytics" at Content Marketing World in September 2014:
1.Create, Promote & Measure
As content marketers we create content, promote it, and measure its effectiveness. We are all professionals at creating content, although it's important to keep in mind that there's a science to writing content that will rank well in search. Promoting your content depends on effectively using social and email marketing.
Andy gave a few hints here: For effective social media promotion, put your blog post into rotation on your social networks. Link to it from your email signature and run a Facebook or PPC ad. Write a guest post that links back to it. For growing your email list, your call-to-action for subscribers should visually stand out on the page. It should also clearly explain what the subscriber will receive, and it should include persuasive proof that other users find value in subscribing.
2. Don't Forget About SEO
While you should promote your content through all possible channels (search, social media and email), search is the most important of these. You can think of content promotion like a boat: Email and social media are like rowing; if you stop doing them, you'll lose momentum right away.
Search traffic, however, is like the wind that you catch in your sails. It will lead to more visitors than either email or social media. Using analytics effectively helps shape your content, and you'll learn which keyword phrases give you the highest rankings. Be sure to put your best keyword at the beginning of your title, in the first header, and four to six times in a 1,000-word blog post. Also, don't name your home page "Home."
3. Traffic x Conversion = Success
When you analyze the actions of users on your site, there are two main areas you need to look at for each page: The total number of visitors, and the percent of those visitors who converted, or took action. Some pages pull in much more traffic than other ones, but if those pages aren't the ones with high conversion rates, you're losing momentum. What you really want to do is link your traffic champions and conversion champions together.
4. Set Dollar Values To Your Goals
Google Analytics has a whole layer of reporting that is only activated when you add in a financial factor. You're not restricted to actual commercial transactions in order to make use of this helpful set of metrics. Instead, you can simply set an arbitrary value on anything you hope your users will do on your site. For instance, you could assign a $1 value on your Google Analytics account for every user who subscribes to your newsletter. Maybe you could also assign a $1 value for every instance of social media sharing or every inbound link. Once you add these values into your account, you will suddenly have access to crucial information about which content is leading to the greatest number of conversions.
Analytics are worth playing with; they're not rocket science, and you shouldn't separate them from the important art of content creation. A content strategist should also be an expert with analytics. Integrating these dual skills means you'll create content that will soar in the search results, and lead to better business health through a constantly growing base of enthusiastic customers.
For more content marketing & analytics goodness, check back right here to the CMWorld blog next Wednesday, when Part 2 of Andy's presentation will be published.
Scripted provides high-quality, original content for a flat rate with a set turnaround time. Post guidelines for what you need, and five days later you'll receive professionally written and edited content.
Posted January 15, 2015 in: Event by Scripted Writers
---