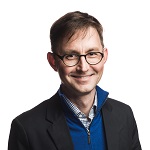 Every Thursday, a Scripted writer will recap a session from Content Marketing World 2014 that will be published here on the CMWorld blog. Find out more about Scripted by visiting their website.
When developing a marketing strategy, it is paramount for businesses to view their company as a media company. Content should be an integrated part of the overall marketing strategy — not something that's viewed as a "one-time project." This means that content marketing has to be transitioned from the project paradigm to the paradigm of process. Picking up from where we left off last week, Andy Crestodina — co-founder and Strategic Director of Orbit Media — took the stage for a second day to discuss how to create content that will generate engagement and overall awesomeness. Here's what we learned:
1. It Pays Off to Inspire a Company Content Revolution
Moving from project to process requires a transformational metamorphosis that is nothing short of a revolution. It is important to understand that revolutions are inspired — they are not ignited through the presentation of facts and metrics, but through the ability to create belief in the process. This means that people, and many times this includes the CMO, must be convinced that the change is not only necessary, but that it has a very high upside.
The truth is that content experiences rarely begin at the top, they are normally the result of experimentation at the ground level. There has to be a willingness to step outside of the culture box, to test new ideas and evaluate possible processes. Additionally, it is important to understand that when developing the business case, the greatest issue will not be the validity and viability of the case, but rather getting co-workers and superiors to buy into the process. At the end of the day, content must be viewed as a function and not a project within your company.
2. Set Content Goals
It's immensely important to understand that content must be generated with a specific purpose in mind, and then it must be tailored around the purpose. The days of creating content just to create content are long gone. Content must be managed as a portfolio of platforms. The idea making content a part of the integrated process of the overall marketing strategy is essential to solidifying consistent long-term growth.
According to Crestodina, it's important to focus on the story before the medium — which is a thought process that is diametrically opposed to the conventional train of thought. Take the time to develop the story, and then it will be easier to determine how the story should be shared across different platforms.
3. After Setting Goals, Know How To Measure Them
There must be a lucid methodology for measuring the productivity of this process, with primary, secondary and user indicators, Crestodina said in his presentation. The primary indicators will be centered on the attainment of set goals. The key KPIs will be considered secondary indicators, while data that is provided through user information will serve to help improve the overall process.
The manner in which measuring takes place must also be changed. The highest priority should not be on metrics, but how well the process is performing in the task of reaching set goals. When goals are set, are they being reached? This is what should be reported to upper-level management and CMOs.
This does not mean that metrics don't have a role in measurement, it simply means that their role is secondary. This is where the company can evaluate metrics such as subscribers, conversions and audience development.
Conclusion
By viewing the business as a media company, it automatically places content generation into an entirely different light. It is also extremely important to understand the need for specificity and relevance into developing the content portfolio. This will help broaden the reach and increase the influence of the company. Good luck on your content journey!
Are you just beginning your content journey? Download The CMI Content Marketing Framework to springboard your own content marketing plans.
Scripted provides high-quality, original content for a flat rate with a set turnaround time. Post guidelines for what you need, and five days later you'll receive professionally written and edited content.
Posted January 22, 2015 in: Event by Scripted Writers
---